Battersea Power Station announces first wave of international and domestic brands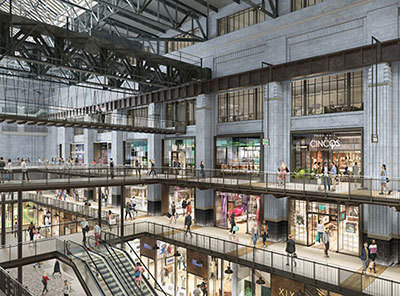 These new lettings follow hot on the heels of the recent announcement that boxing Heavyweight World Champion, Anthony Joshua's BXR London gym has chosen Battersea Power Station as the location for the brand's expansion after the original BXR gym opened in Marylebone. 
Luxury fashion house Hugo Boss
15,000 sq. ft flagship store for Japanese casualwear giant, Uniqlo
Elegant perfumery and candlemaker, Jo Malone London
Internationally renowned, MAC Cosmetics
British beauty powerhouse, Space NK
New York apothecary, Kiehl's Since 1851
One of the UK's largest Swiss watch luxury retailers, Watches of Switzerland, with Rolex as lead brand
Emerging British eyewear brand, Finlay & Co
Royal Selangor, Malaysian pewter craftmanship
Operator behind Olympic Studios and The Cinema at Selfridges, Archlight Cinema will open their second venue at BPS
As well as being home to the Battersea Power House, a unique collection of new event spaces in partnership with Camm & Hooper, which will host an array of cultural, fashion shows and music events for thousands of people, there will also be a one-of-its kind glass lift, which will travel up the inside of one of the Power Station's iconic chimneys, becoming a viewing platform as it emerges out of the 109m summit. 
The retailers are set to bring a new energy to the heritage landmark, setting up shop in the two Turbine Halls. Turbine Hall A, which was built in the 1930s and evokes the Art Deco glamour of the era, will be home to the premium collection of brands, and Turbine Hall B, which was completed in the 1950s, and has more of a brutalist, industrial look and feel, will house an eclectic range of more contemporary fashion brands. 
Once open, the Power Station will be home to over a hundred established, luxury and emerging retail, food and leisure brands, providing a space for new, unique concepts and creative designs that will complement the host of shops and restaurants already open at Circus West Village, the first chapter in this redevelopment. Following on from the success of Archlight Cinema's first outpost which opened in Circus West Village last year, the boutique cinema operator has now chosen the Grade II* listed building as the location for its second venue. 
 Approximately 70% of the total commercial space within the Power Station is now let, with more than 45% of the retail and leisure floor space exchanged or under offer. 
With the Northern Line being extended to give this new area of London its very own Zone 1 Underground station, which is also due to open in 2021, Battersea Power Station is expected to draw visitors from across London and the globe becoming one of the capital's most visited destinations. It will also be the go-to place for South West London, boosting the local economy and creating over 17,000 jobs. 
Battersea Power Station is one of Europe's most iconic regeneration projects and is being delivered across several phases. Circus West Village opened in 2017 and is now a thriving hub of independent restaurants, cafés, bars as well as leisure offerings including The Turbine Theatre, Birdie's Crazy Golf, Boom Cycle and Archlight Cinema. Along with the thousand or so residents living in this first chapter, over three million people have visited in the last year to experience the wide range of festivals, markets and children's activities on offer all year round.
Simon Murphy, Chief Executive Officer at Battersea Power Station Development Company (BPSDC), said:
"We are delighted to be partnering with these exciting brands which set the tone for our retail and leisure offering inside the Power Station. On behalf of our Malaysian shareholders we are delivering a destination for our local community as well as London and far beyond. We enter 2020 with a very strong pipeline of retail and leisure brands intending to make the Power Station their home, which we will announce over the course of the year as we begin counting down the days to the opening of this historic landmark in 2021."
For more details visit Battersea Power Station website.