Flytippers drove from Merton to Putney to dump their waste
Published: Friday, December 20, 2019
The council's flytip squad has launched an urgent investigation into how a lorry load of waste was brought from an address in neighbouring Merton and dumped on Putney Common on Wednesday.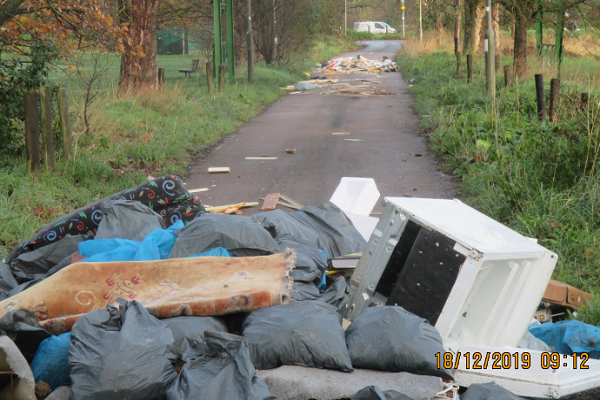 The huge flytip was discovered just after 9am in Willow Farm Lane – a small access road that crosses Putney Common.
And during their investigations into how it got there, evidence was found linking some of the waste to an address in Merton. Officers in the flytip squad will now be working with their counterparts in that borough with a view to prosecuting the householder.
The maximum penalty that can be imposed by the courts following conviction for a serious flytip offence like this is an unlimited fine and/or a prison sentence of up to five years.
Residents having work done on their properties should always check with their builders and other contractors precisely how they will be disposing of any waste materials.
They should be extremely wary of people knocking on their doors unannounced and offering to take away their rubbish.
Cowboy waste contractors often drive around residential areas looking for homes that are being refurbished or cleared. They will approach the owner and offer to take "junk" away for a cut-price rate.
But instead of taking it to a proper waste disposal site and paying the appropriate fees, they simply dump it somewhere nearby – often in parks or other open spaces – leaving taxpayers to foot the clean-up bill.
In these cases it is not just the flytipper who is committing a crime – the householder who paid them is also liable under the law.
Wandsworth's environment spokesman Cllr Steffi Sutters said: "Councils up and down the country are working flat out to tackle these illegal activities but this discovery in Putney shows just what we are up against.
"Unfortunately too many householders are all too willing to pay a cut price fee to professional flytippers and turn a blind eye to where their waste will end up.
"Only a few days ago we saw another incident in Balham where a huge pile of DIY waste was driven just over a mile and then dumped on a nearby housing estate.
"These householders may not realise they are doing anything wrong – but in reality they are committing a serious criminal offence for which they could be heavily fined or even sent to jail.
"If you want bulky waste removed please use a licensed operator or call the council which will do the job for a reasonable fee."
Residents wanting rubbish cleared can call the town hall on (020) 8871 8558. If households choose a licensed private contractor instead they must make sure they check the license details and get both a proper receipt and a waste transfer note.
Anyone with information about rubbish being dumped should email flytipwitness@wandsworth.gov.uk.