Has your school joined the plogging revolution?
Published: Friday, December 13, 2019
Wandsworth schools are catching the plogging bug – a great way of keeping fit and active while helping to clean up our environment.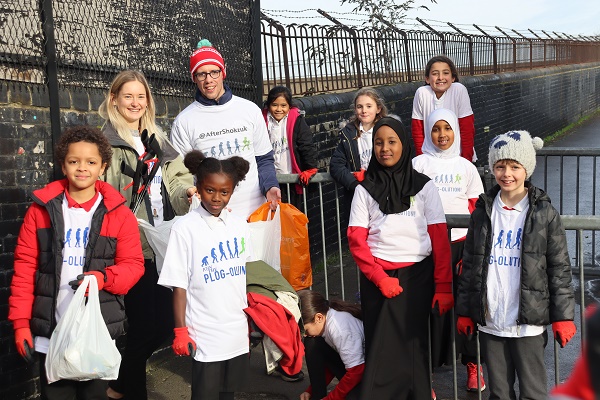 Originating in Sweden it combines picking up litter with jogging or walking to create plogging. Earlier this year, Wandsworth Council gave more than £5,000 from its Wandsworth Grant Fund, to voluntary group Plogolution to run plogs in schools so that children can play their part in taking pride in our area while enjoying the benefits of a worthwhile workout.
Grants like this help support Wandsworth-based community and voluntary groups with funding between £500 and £10,000, for projects or ideas that benefit local people.
A number of schools have already signed up to run regular plogs including John Burns, Newton Prep, Honeywell, Ronald Ross, Trinity St Mary's and Furzedown.
"It's great to see schools getting on board and we would love more to join the plogging revolution," said Cllr Steffi Sutters, the council's cabinet member for community services and open spaces.  "As a council we are committed to keeping the borough clean and tidy and plogging is one of the most fun ways I can think of to tackle litter, as well as encouraging the next generation to help save the environment."  

Primary and secondary schools and even nurseries can sign up to plogging. Each school can choose whether to do a plog before, during or after school time.

For the schools programme one of the Plogolution team will start with an assembly to talk about the global problems with littering and plastic pollution before focusing on solutions such as sustainability, reducing single use plastic and then introduce the concept of plogging. 

They will then come into the school to help set up their first plog. Before starting there will be a discussion around health and safety issues, including what the children can or can't pick up, before running a route for them and showing what to do at the end of the plog in counting up the bags of litter.

All the equipment will be provided so that the school can continue plogging on an ongoing basis, and the school is encouraged to upload their statistics at the end of each week to the Plogolution website.

"Plogging is a great way for school kids to get active, as well as helping clean up communities and take pride in the local area," said Michelle Parkes, Plogolution's co-founder.
"From the schools' perspective plogging is a great reputational thing for them to be able to show," said Michelle. "I've done it in my son's school and I regularly get comments from parents and local residents saying, 'thank you' for getting them out and about and for helping to make the streets cleaner and tidier. But it's also empowering the children to show that they really can make a difference. It's incredible how much litter just a small group of children can pick up."

Supporting such worthwhile initiatives as plogging is all part of the council's commitment to tackling climate change with an ambition to becoming the greenest borough in inner London.
Wandsworth-based community and voluntary groups, with projects or ideas that benefit the community, are invited to bid for grants, from the council's Wandsworth Grant Fund, between £500 and £10,000. Visit the website for further details: www.wandsworth.gov.uk/wgf
To find out more about plogging call Michelle on 07747 802 343 or Dermot on 07867 386 293 or visit plogolution.com