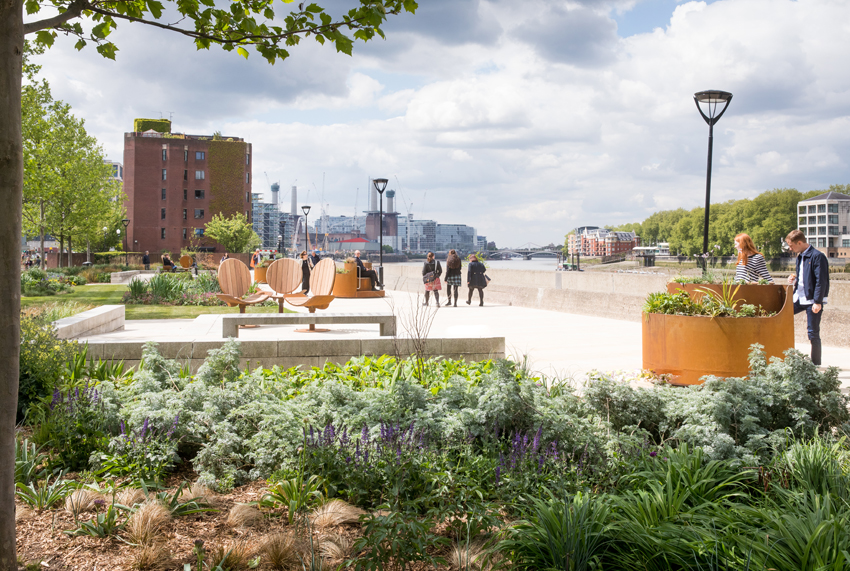 The section is along Nine Elms Lane between Heathwall Pumping Station in the west and the new Riverside Gardens 'pocket park' in the east. It features art installations, the colourful Nine Elms Pavilion and riverside seating and planting.
It is the first in a phased series of improvement to the path alongside the Thames in Nine Elms linked with a common theme celebrating the area's past, from rural idyll, cottage industries, power station, breakers yards and depots to the new residential quarters.
When completed the walk will reveal stretches of the riverside long closed to the public, provide better access to Battersea Power station and the US Embassy, will link Battersea with the South Bank and will give access to the Thames to the fast-growing Nine Elms community.
The long-term aim is to create a joined up, green and walkable route along the Nine Elms and Vauxhall riverside, lined with new parks and attractive public squares. This is part of a package of infrastructure and transport improvements to Nine Elms including a new riverboat pier, improvements to Nine Elms Lane and the Northern Line extension.
The path is designed by Churchman Thornhill Finch on behalf of the Nine Elms Vauxhall Partnership and Wandsworth Council.
Elsewhere in the borough another section of the riverside was recently opened up in Wandsworth Town Centre as part of the Ram Development after being closed to the public for decades.
Leader of Wandsworth Council Ravi Govindia said: "I am very pleased that the Nine Elms riverside walk has been recognised by the New London Awards. This stretch of the riverside walk is already attracting more local people and is a great addition to the area.
"It's good to see stretches of Thames riverside that for generations have been off limits opening up to the public for the first time in years thanks to close and constructive collaboration between the council and local partners."
The New London Awards recognise the best in architecture, planning and development in the capital across all sectors of the built environment and the Thames River Path has been nominated in the Public Spaces category. The winners will be announced on July 3.
In addition, in conjunction with the London Festival of Architecture, Londoners can vote for the winner in the People's Choice category. To vote for the Thames walk fill in the online form.
Find out more about Nine Elms at http://nineelmslondon.com/