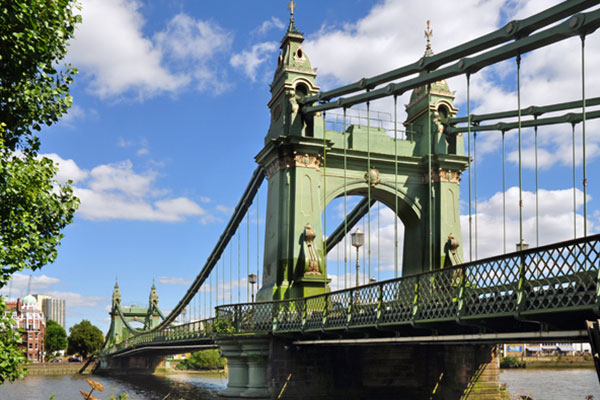 The bridge was closed indefinitely without warning on April 10. There are now suggestions it could remain closed for at least another three years.
And there are concerns that other financial pledges made recently by H&F could impact on its ability to properly fund the bridge's repair. Last month it confirmed it was pursuing a £200m compulsory purchase order (CPO) to seize land at Earls Court currently owned by developer Capco and Transport for London.
At the same time as pursuing this controversial CPO, H&F has repeatedly said it cannot afford to fix the bridge.
Cllr Ellis said: "The closure of Hammersmith Bridge has had a serious knock-on effect on communities living close to other river crossings. People living in Putney and Wandsworth have been hit hardest by this sudden closure decision.
"Our residents have a right to know what H&F is actually planning to do about this. More than two months have passed by and people are still no nearer knowing what, when and how the bridge is going to be fixed.
"During that two months people living in Putney and Wandsworth - and further afield as well - have suffered the impact of all the extra traffic that would normally cross the river in Hammersmith but is now having to use other Thames crossings.
"Numerous bus services have also been diverted or disrupted, resulting in longer journey times and huge inconvenience for people who use public transport. 

"And all the great strides we have made in recent years to tackle air quality problems in Putney High Street face the very real risk of being undone as a result of this closure.
"People living across south west London need answers about how this situation has come about, how the bridge's condition has been allowed to deteriorate to such a degree, and crucially, what H&F's plans are to deal with this problem and get the bridge reopened."
The current closure is just the latest in a series that have affected Hammersmith bridge over the past two decades.
The bridge was closed in 2014, 2016 and twice in both 2017 and 2018. It was also closed for more than a year between February 1997 and July 1998. It is the only bridge that H&F is responsible for maintaining.