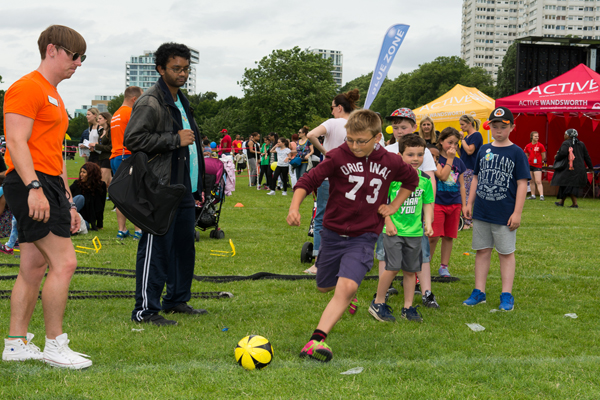 Following the successful Furzedown Big Day Out earlier this month, the second in a trio of summer events will see dozens of local clubs providing a range of sporty activities and stalls, a kids' activity zone, and a special appearance from the Battersea Fire Brigade.
It will take place this Saturday (June 29) from noon to 6pm and is free for everyone to attend.
This is the tenth year of the popular Get Active festival which encourages residents to get active and find out more about the many clubs and groups offering activities to help you shed the pounds or just make new friends.
"I absolutely love these events because they not only bring to light what's available in the borough but they are all about community and family," said Zara Karimi, co-founder of Live Karma Yoga. "We use yoga as a way of bringing together people from different walks of life which is just what the festival does."
Two yoga teachers will be representing the inclusive yoga group on the day, encouraging visitors to try an alfresco yoga session and learn more about their work. Other popular stands will be run by Battersea Arts Centre including a beat box academy and a bike mechanic workshop.
The council's cabinet member for community services and open spaces Cllr Steffi Sutters said: "After last year's successful Get Active Wandsworth Festival, we will again be taking it on the road this year visiting community events. This weekend we're delighted to visit the popular Falcon Road Festival.
"We'd love everyone to come along and join in. It's free and you can bring your whole family for a day of having fun and getting active."
The Get Active Wandsworth team will be handing out free goodie bags to everyone who completes a survey. Contents include a frisby and an Oyster card holder and a £5 gift voucher to be redeemed against lots of sporting activities such as a free day at the Active Kids Holiday Fun Programme and a free tennis court for an hour.
The final roadshow will be the Get Active Roehampton Festival which will take place on Saturday, September 7 on The Bull Green. Tennis, football, rugby, multisport, yoga, live music and kids' events are just some of the many activities planned to finish off the summer in style.
It's all part of the summer-long celebration of Wandsworth's great parks which can be enjoyed under the #LoveParksWandsworth banner and which encourages residents to get out and make the most of what our beautiful borough has to offer.• For more details visit: enablelc.org/active

• Stay in touch and send your pictures on Twitter and Instagram at @LoveParksWandsworth and @Wandbc and by using the hashtag #LoveParksWandsworth