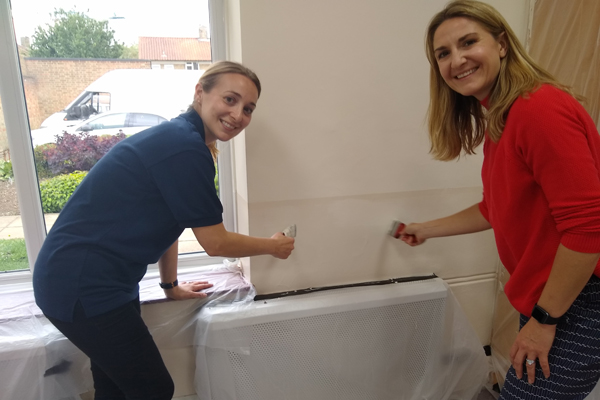 The national developer is currently working in partnership with Wandsworth Council to deliver 92 new affordable homes in the borough across two development sites at Shuttleworth Road and Stag House. As part of its presence in Wandsworth, Wates Residential has pledged to invest in the local community and increase opportunities for local residents.
Last week 16 staff swapped their day jobs to spend time volunteering to support local residents in Wandsworth as part of the company's Community and Conservation Week (June 17–21).
The volunteers spent more than 90 hours preparing and repainting the main hall at Newlands Hall community centre for the benefit of local residents. The hall is close to the Stag House site currently being developed to provide 21 new homes, including 10 for those with physical and learning disabilities, by Spring 2020.
The hall is managed by the Putney Vale Residents' Association (PVRA) and is at the heart of the local community. Cllr Jane Cooper, Deputy Mayor of Wandsworth and Shirley Price, chair of the PVRA, were in attendance, and Shirley presented the team with a certificate thanking them for their efforts in repainting the hall. Councillor Kim Caddy, the Council's Cabinet Member for Housing also attended to lend a hand on the final day of the project.
Next month, Wates Residential's construction site team at the nearby Shuttleworth Road site will paint communal areas at the Katherine Low Settlement building, a local charity that provides valuable community services and space for the local community to benefit from.
Shirley Price, Chair of Putney Vale Residents Association, said:"Newlands hall is a well-used community facility enjoyed by the residents of Putney Vale and beyond. We are very grateful for the enthusiastic support of Wates Residential volunteers in redecorating our hall.
"This will enable funds raised for this purpose over the years to go towards the refurbishment of the children's playground on the estate as agreed at our recent Annual General Meeting of the Association."
Wandsworth Council's cabinet member for housing Kim Caddy said: "It was great to be involved in Wates Community and Conservation Week at Newlands Hall. This hall has served residents well over the years and repainting the walls has really given it a new lease of life. This is another demonstration of our commitment to improving housing options and conditions in the borough for all residents."
Paul Nicholls, Managing Director for Wates Residential, said: "We are incredibly proud to be working with the local Wandsworth community and are passionate about supporting projects that bring the community and our team members together.
"Communities will always be at the heart of every project we work on so we are really pleased that our development will also leave a positive lasting legacy in Wandsworth, not only through the new affordable homes but also our commitment to invest in the local area."