Millions more to improve Wandsworth's roads and pavements
Published: Friday, June 21, 2019
Cyclists, pedestrians and drivers will all benefit from better roads and pavements throughout Wandsworth after councillors approved plans to invest £3m in footpath and carriageway upgrades in the coming months.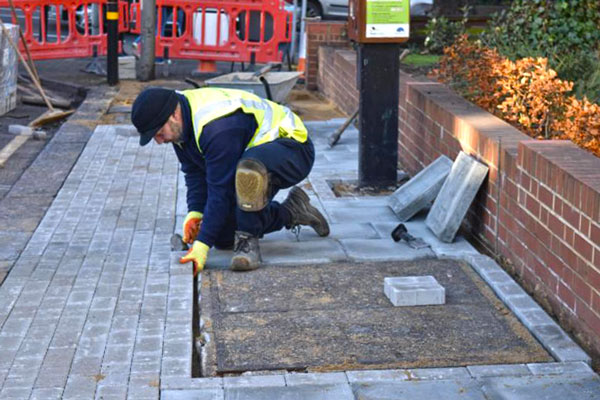 Last year, £3m was spent laying new pavements and resurfacing local residential roads and this year another £3m will be invested.
This means that between now and April 2020, more than two dozen roads across the borough will be resurfaced ensuring safer journeys for cyclists and motorists. In total, £2m will be spent giving 26 residential roads an upgrade.
Included in the programme of carriageway resurfacing works are the following:
Tooting, Balham and Earlsfield - Beeches Road, Lessingham Avenue, Cunliffe Street, Tranmere Road, Furzedown Drive, Cornford Grove, Broxash Road, Cheriton Square, Gravenel Gardens, Western Lane and Gosberton Road.
Putney, Roehampton, Wandsworth and Southfields – Findon Close, Lebanon Gardens, Thursley Gardens, Woodlands Way, Ericcson Close, Dorlcote Road and Borrodaile Road.
Battersea and Clapham Junction – Ashness Road, Havelock Terrace, Longhedge Street, McDermott Close and St Rule Street.
Since April 2012 the council has invested around £16m fixing potholes and keeping the more than 230 miles of road surface the council is responsible for maintaining in a good state of repair. Over this time period around 40,000 potholes have been fixed.
Keeping pavements and footpaths in good order is a council priority. Last year the town hall spent £1m relaying pavements and this year another £1m will be invested in renewing pavements in 23 residential roads.
Annual London wide surveys consistently show that Wandsworth has some of the best maintained roads and pavement in the capital
Transport spokesman Cllr Paul Ellis said: "We know that our residents take great pride in the borough which is why we put a lot of effort into keeping roads and pavements in good order.
"Dealing with worn out road surfaces, repairing potholes and renewing pavements makes travel in all its forms safer for residents across the board whether they are walking, riding or driving.
"It is through the council's prudent management of its finances that we are able to find this money and keep our borough's streets and pavements looking good."
Residents can report potholes or broken pavements via www.wandsworth.gov.uk/potholes or by emailing onstreetservices@wandsworth.gov.uk.
A list of those streets that are scheduled to be resurfaced or have new pavement laid is available on the council's website. This list is not definitive as on some occasions preliminary investigations may result in some roads and/or footways not being progressed due to site conditions or works by other utilities or agencies in which case alternatives will be selected from a reserve list.