Planning approval for new homes and health centre as part of Garratt Lane regeneration scheme
Published: Friday, June 28, 2019
The regeneration of a key area in Earlsfield has taken another step forward with councillors granting planning permission for a new health centre, shop units and homes on vacant or underused land in and around Garratt Lane.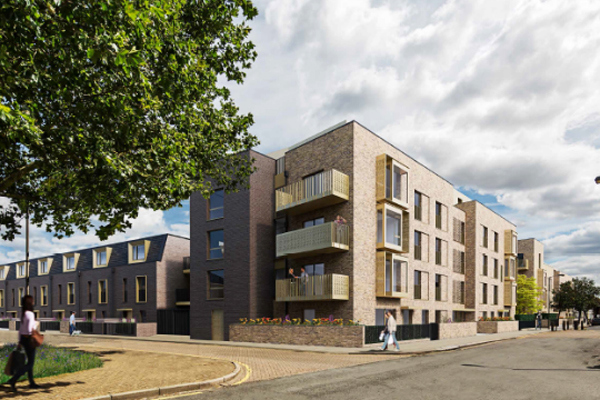 On Wednesday night councillors approved plans to build 193 new homes, a new state-of-the-art community health centre, a pharmacy and two shop units on council-owned land in this part of the Earlsfield.
Forty per cent of the scheme will be affordable and ten per cent will offer wheelchair access. The delivery of the affordable housing is being supported by a grant from the council of over £1m to the housing association selected, Octavia, for the development.
Of these 193 homes, 75 will be available to people on lower incomes. Seventeen will be offered on social rent terms, 56 for low cost shared ownership and two at intermediate rents. Twenty-three will have either three or four bedrooms.
These new homes will be built on council-owned 'brownfield' sites in Oakshaw Road, Atheldene Road, Wilna Road, Winfrith Road and Waverton Road
The scheme will also see a GP-led NHS community health centre, new homes and new retails units on vacant land at the corner of Swaffield Road and Garratt Lane. The health centre will be 50 per cent bigger than the one it replaces and could include a variety of specialist clinical services in addition to the family doctor-led services.

The planning consent paves the way for the next phase in the wider investment plans and regeneration of this part of the borough.
It has already seen the replacement of vacant and obsolete council-owned buildings with a 420 pupil primary school – Floreat Academy – plus a nursery for 50 local children.
Planning chairman Cllr Guy Humphries said: "Part of this land is currently occupied by a number of unattractive 1950s and 60s council-owned buildings and their replacement with smart, high quality homes will not only help revitalise the area, but also improve the visual amenity of these streets by restoring parts of the historic street pattern.
"This scheme represents another key element in the council's plans to revitalise and improve this part of Garratt Lane.
"There has already been substantial investment here with the addition of a new primary school and nursery. We are now ready to move onto the next stage of this neighbourhood regeneration scheme by providing a new and better state-of-the-art health centre alongside new homes – including a significant proportion of affordable homes."
Other parts of Garratt Lane, further north towards Wandsworth High Street, are also undergoing major transformation, with work underway on replacing the former housing department and other council office blocks on the High Street as part of a major new regeneration scheme in partnership with South Thames College.
This will provide 201 new homes, a better library, new shops and improved teaching facilities for the college.
The new library will open out onto a new public square with seating, while new pedestrian routes will provide better links between the Old Burial Ground, Garratt Lane and the high street.
Further investment will see the installation of public art, landscaping and seating in the burial ground.
A quarter of these 200 new homes (25 per cent) are to be offered to eligible local residents to rent or buy at a discounted rate.
Other landmark regeneration schemes in the town centre include the Wandsworth Business Village, Ram Brewery site, Lyon House and The Filaments in Buckhold Road.
Transport for London is also drawing up fresh proposals to redesign the Wandsworth one way system which will remove through traffic from the high street and create better space for pedestrians.
Council leader Ravi Govindia said: "Our joint project with South Thames College will see the replacement of some under used office blocks with attractive and modern new buildings providing new homes, including many affordable units, plus retail space, improved educational facilities, a new public square and a brand new library.
"These town centre schemes represent one of the biggest regeneration projects in London with well over £1bn of investment flowing through the area. Hundreds of new jobs and homes are being created here alongside major improvements to the local environment."