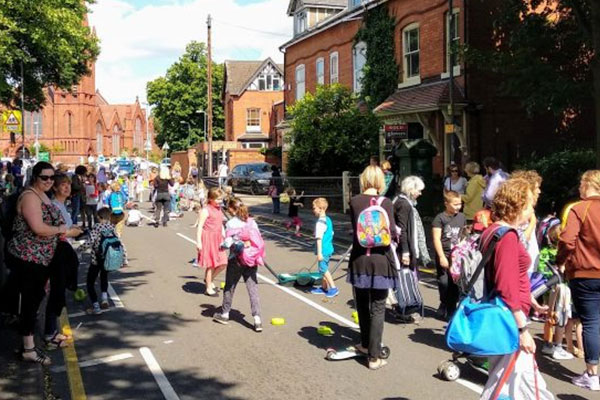 The children attend Granard School and thanks to a pilot scheme arranged by the school, parents, environmental charity Sustrans and supported by the council, when classes end on Wednesday they will be able to carry on playing in the street outside the school.
Between 3pm and 5pm Cortis Terrace will be closed to traffic with stewards on duty to prevent any motor vehicle access.
And with the street free of traffic, the children will be able to play while mums and dads get the chance to join the fun or spend time chatting and meeting new friends.
As well as enjoying the day itself the scheme's wider aim is to provide the children with a safe space to play and to ease the congestion, poor air quality and road safety concerns that families sometimes experience during drop-off and pick-up time.
Granard's Headteacher Cheryl Grigg said: "The streets around our school are often dominated by idling cars and traffic at drop-off and pick-up times, resulting in air pollution and an environment that is generally unpleasant for walking and cycling.
"By demonstrating that closing the road outside our school is achievable, and by measuring its impact and sharing our findings, we are aiming to encourage more regular street closures.
"Ultimately, we want to affect a permanent change in the way children travel to school and also hope to inspire more schools to try this approach and to raise awareness to the public about travel and its impact on health, well-being and the environment."

The council is promoting safer travel and improvements to air quality levels outside primary schools by inviting a number of head teachers to support another pilot scheme that would stop traffic from driving past their school gates at drop-off and pick-up times.
The council is keen to pilot a "School Streets" initiative at suitable locations which would see the roads containing school entrances closed to traffic when pupils arrive in the mornings and leave in the afternoons.
The council is currently considering the practicality of "school streets" at Penwortham, Hillbrook, Alderbrook, Earlsfield and Furzedown primaries.
Where schools and parents back a scheme, there will be a wider consultation with local residents in any affected streets to ascertain their views.
The council's education and schools spokesman Cllr Will Sweet said: "We hope parents and local residents support this idea as we believe it will create a much safer and healthier environment for their children on their journeys to and from school."
And transport spokesman Cllr Paul Ellis added: "Reducing the impact of vehicle traffic and encouraging parents and children to walk to school are key priorities for the council. If parents and local residents in any affected streets agree to trial schemes, there could be a really beneficial impact on air quality standards around these schools. What will also be important is making sure we get the logistics of the scheme right."
If people support the scheme it could be introduced on a trial basis from September onwards.
While vehicle traffic is normally prevented from entering any school streets, it does not apply to local residents who live in the streets or drivers with a disability who need access. The scheme would apply only during term times.