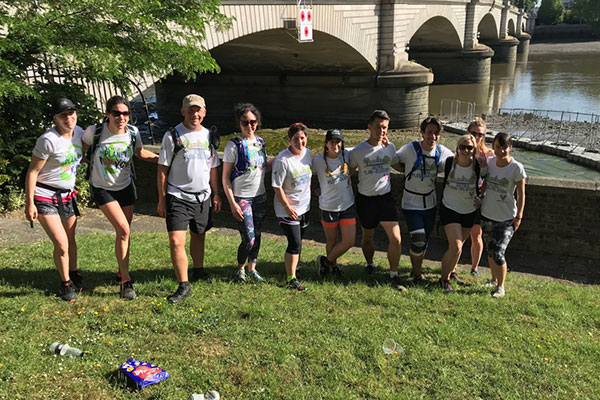 Plogging is the new workout trend from Sweden, giving you the double endorphin hit of not only keeping fit but also making a massive difference to your local community at the same time.
It's a combination of running, jogging or walking and the Swedish term 'plocka upp', meaning pick up.

Wandsworth Council is supporting Plogolution, by co-hosting a plog on Saturday 8 June, 1pm-3pm, King George's, Wandsworth. Anyone can sign up – to the 2k walk or 5k run - and people of all ages and fitness abilities are welcome to come along.
The Wandsworth plog is fresh off the back of a six-day Ultra Plog, on Saturday 1 June, which saw a group of dedicated fitness enthusiasts run along the river Thames - 184 miles – and collect 1107 plastic bottles, 489 glass bottles, 931 cans and 44 bags.
Wandsworth Council was proud to welcome the Ultra Ploggers for the final leg of their epic six-day marathon, as they set off from Putney Bridge.
Michelle Parkes, Plogolution co-founder, explains the ethos behind plogging, "We started Plogolution just under a year ago and are really pleased to be working with Wandsworth Council in a bid to create fit and happy communities that are dedicated to building an environment that we can be proud to hand down to future generations.
"Our vision is all about tackling plastic pollution, which is now at crisis point, with 8 million tonnes of it hitting our oceans annually.
"We want to create a planet where plogging is no longer needed and our streets, parks and town centres are litter free. Clearly we are a long way from achieving this dream, but with events like this we can get one step closer."
Councillor Steffi Sutters, Wandsworth Council's cabinet member for the environment, said: "We're immensely proud to support Plogolution, and jointly run this event as part of our MyWandsworth campaign to keep the borough clean and tidy.
"Plogging is just one way that we can bring the community together, as well as sending a clear message to litter louts that what they do is unacceptable."
Register today to join the Wandsworth Plog on Saturday June 8, 1pm-3pm, King George's, Wandsworth.  
People of all ages and fitness abilities are welcome to come along; the Wandsworth plog has a 2k walk or a 5k run if you're keen to get your running shoes on.
All equipment will be provided including gloves, rubbish bags and a FREE Plogolution t-shirt. Everyone is welcome, so pop along and make some friends.