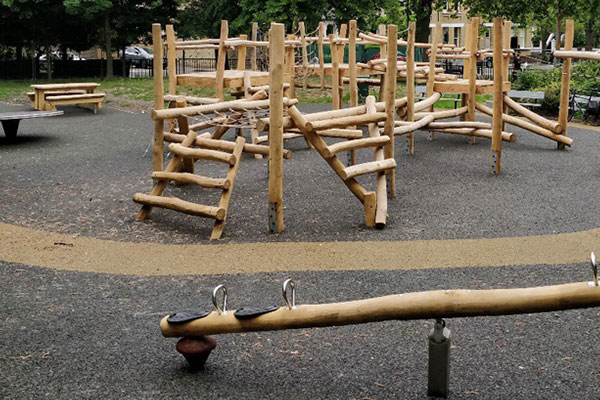 The playground at Chivalry Road has had a major facelift that includes new landscaping and new safe play surfaces provided along with modern new play equipment, including timber swings, slides, see-saws, climbing frames, benches and picnic tables.
Attention now turns to the nearby playground by St Mark's Church in Boutflower Road which is also getting a substantial revamp. Work is due to begin here later this month.
These upgrades come just months after the nearby all-weather ball games area in Chivalry Road was refurbished as part of a separate £130,000 scheme. As well as a new playing surface, fencing and renewed sports equipment, the floodlighting was also upgraded enabling young people to use it after dusk.
Environment spokesman Cllr Steffi Sutters said: "I am really pleased that the final designs for this playground and new play equipment were chosen by local people when we staged our public consultation last year so these improvements should be very popular with local families and our youngest residents.
"Combined with the improvements at the nearby ball games area which is aimed at slightly older children and teenagers, it means we are able to offer something to young people of all ages in this corner of Wandsworth Common."
The Chivalry Road playground is expected to reopen to the public on or around June 17. When it does work will start almost immediately at St Mark's. Families who normally use this playground will be able to go instead to the three nearby playgrounds next to The Skylark Café, the Windmill Nursery at in Chivalry Road.

All these refurbishment schemes are funded via the Wandsworth Local Fund (WLF), which holds cash levied by the council on new developments in the area and which help pay for community and neighbourhood infrastructure improvements in the borough.
Over the past three years more than £7.2m in WLF money has been spent on local improvement initiatives including schemes to support safer communities, employment opportunities for young people, better pavements and improved playgrounds.
Those chosen for funding are mainly suggested by local residents who are encouraged to bring their ideas to their local ward councillors so they can be properly considered. Funding is only approved for schemes that meet criteria based on the priorities set by local people.
Other WLF-funded schemes include Christmas lights in the town centres, new LED street lights, a major road and pavement resurfacing programme, repainting Earlsfield Station railway bridge, refurbishing Putney Vale Cemetery and the Quest project providing intensive support to get young people into work.
Several public realm improvements to smarten up shopping streets include Putney High Street, Bedford Hill and Bellevue Road.
And several playgrounds have been or are about to be revamped, including Upper Tooting Park, Godley Gardens, Swaby Gardens, Leaders Gardens and Battersea Park. Improvements are also being made at Falcon Park and Furzedown Rec.
A new guide has been published offering local people advice on how they can nominate community schemes for funding. It's available at all local libraries or can be read online at www.wandsworth.gov.uk/WLF.