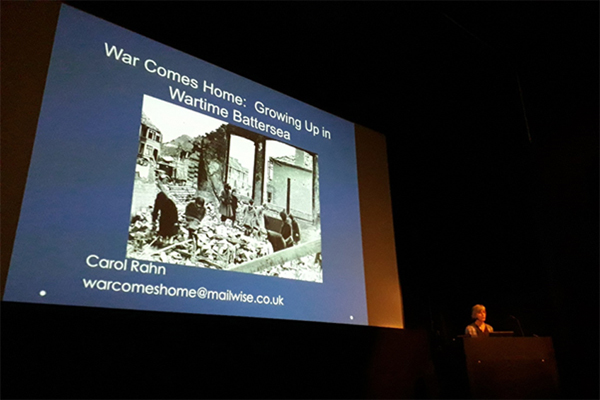 The War Comes Home project, supported by Wandsworth Council's Parks Service, was awarded £7,900 by The National Lottery Heritage Fund, thanks to money raised by National Lottery players.
The year-long project was led by the War Comes Home Committee of Sue Demont, Geraldine Kelly, Carol Rahn and Jenny Sheridan. War Comes Home has focused on discovering and celebrating life in Battersea during World War II and the lives of the civilian men, women and children who perished in the bombing, as well as raising awareness for Battersea's own Grade II listed memorial to those civilians in Christchurch Gardens.
There were four parts of the project building on the stories of what it was like to live during World War II and sharing them with the wider, multi-generational community, these included;
The "Bombing of Battersea" event, featuring -recorded interviews with men and women recounting their childhood experiences in wartime Battersea and narration by Carol Rahn, editor of the videos. First offered as part of last year's Wandsworth Heritage Festival, the event has been repeated several times and covers topics ranging from the terrors and fascination of bombardment, evacuation and disrupted schooling, to the astonishing independence of that generation.
"The Bombing of Battersea" booklet written by Sue Demont, which has sold more than 500 copies and preserves eyewitness accounts, linking them to the facts about wartime events 
An online library of these videos and a trailer by the War Comes Home committee for the entire project.
A youth theatre performance through Omnibus Theatre and the support of War Comes Home committee member Jenny Sheridan. In total, each of three age groups gave voice to the words of the oral history participants. Altogether 43 children took part aged between 5 and 16; all had been immersed in the War Comes Home material for over six months, including intensive discussion periods for the older children with interviewees.
Carol Rahn, War Comes Home Committee, said: "We have captured unforgettable stories from those who lived through one of the most dramatic periods of British history and the enthusiastic response of so many different audiences has been gratifying. We are proud that the project leaves a permanent legacy."
The project has also laid the foundations for the Friends of Christchurch Gardens which is now - becoming an established Friends Group in the borough, with particular thanks to Geraldine Kelly. Situated within Christchurch Gardens is a Grade II listed memorial and plaque to mark the civilians who lost their lives during the war.
Stuart Hobley, Director of The National Lottery Heritage Fund, London & South, said: "We're delighted to have supported Wandsworth Council in their exploration of Battersea's wartime heritage and the recording of people's first-hand accounts. Thanks to National Lottery players, local people have been able to play a part in preserving an important segment of the area's history which should never be forgotten."
Several videos with eyewitnesses stories will be shortly available at facebook.com/WarComesHome. A booklet called The Bombing of Battersea is also available. The War Comes Home committee will continue to work with local schools to bring part of this material into the World War II curriculum. To find out more email warcomeshome@mailwise.co.uk.