The council's long standing record of delivering high quality value for money public services is being retained despite the need to increase funding particularly for care services.
Last night (Wednesday) councillors formally approved a council tax increase of 2.99 per cent to cover the majority of town hall services plus a further two per cent which is to be targeted on improving social care provision.
In cash terms it means an average increase of £21.38 next year, equivalent to 41 pence per week - with Wandsworth residents continuing to benefit from the lowest average council tax bills in the country.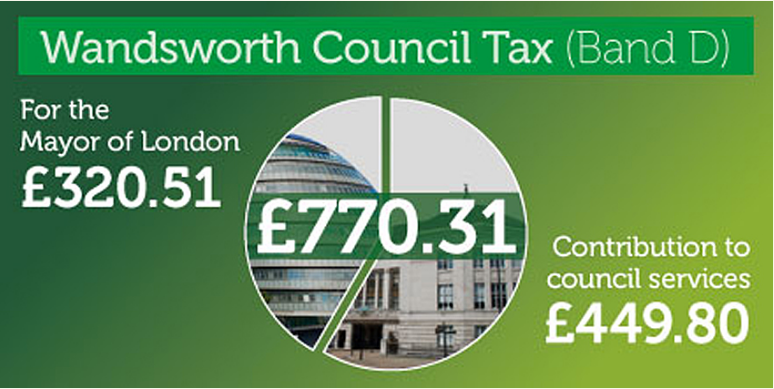 In contrast, the Mayor of London is proposing to increase his share of council tax bills by 8.9 per cent which will raise his precept £26.28 from April.
Wandsworth's overall average Band D council tax bill for the year will total £770.31 - around half the London average. Of this amount £320.51 is payable to the Mayor.
The council's finance spokesman Cllr Guy Senior said: "Since council tax was introduced almost 30 years ago we have worked tirelessly to ensure our residents have been able to enjoy top quality services at a price they can afford.
"Over those three decades our residents have been charged the lowest average bills of anywhere in the country while at the same time they've benefited from record investment in roads, libraries and housing.
"It is through prudent and sensible financial management, with a relentless emphasis on delivering value for money, that we have been able to keep council tax bills to the absolute minimum while providing some of the best-run local government services in the country.
"We are also making sure we protect the vital social care services that many of our elderly residents, or those who are sick or vulnerable, and that their carers too rely on so heavily, which is why this year we are increasing the funds that pay for these crucial support services."
Councillors were also told of a record £12.932 million new homes bonus payment to Wandsworth in 2018/19 in reward for supporting new housing delivery in the borough. This funding is expected to rise to £12.953 million in 2019/20 – the second highest in the country.
Cllr Senior added: "This money is a result of Wandsworth's strong record on delivering new homes and another example of how we are working hard to improve the borough and meet the needs of local people."