Charity's research highlights Wandsworth's approach to evaluating early years provision
Published: Friday, March 22, 2019
A leading research charity has highlighted Wandsworth's efforts to make sure its early years support for families and children is effective and comprehensive and that the services it provides have a positive and measurable impact on those it's trying to help.
The Early Intervention Foundation has published a detailed report outlining the crucial importance of robust evaluation of the effectiveness of these important early years services.
The charity, whose stated mission is to "champion and support the use of effective early intervention to improve the lives of children and young people at risk of experiencing poor outcomes" singled out Wandsworth's work as a good example for other local authorities to consider.
It says Wandsworth's early years offer "involves a universal front door (or single point of contact) for concerns about children, young people and families below the threshold of social care. Where a child is identified as needing targeted support or help that cannot be met through universal services, an early help assessment is carried out.
"This is used to develop a Signs of Safety and Wellbeing plan. Practitioners work in partnership with the child and family to form a Team Around the Family, who work together to deliver the plan and to build resilience in the family."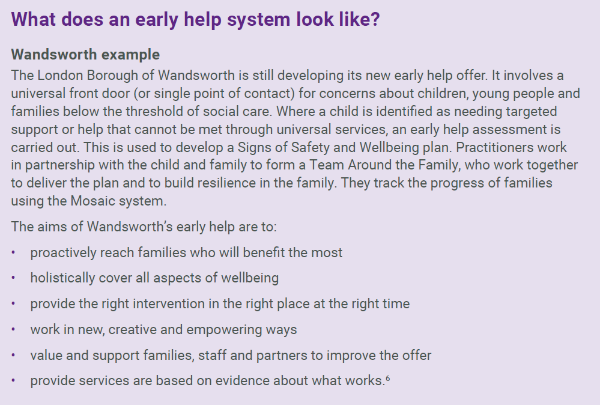 The charity's verdict that the council has a good system in place to monitor and evaluate the effectiveness of its early years provision coincides with a major overhaul of four children's centres in Wandsworth - ensuring that their popular "stay and play" family provision continues to be provided alongside a new package of services for toddlers and younger children to offer them the best start in life.
Following a detailed and in-depth public consultation held in the autumn a series of improvements will now be introduced at the four centres, which will see many more two-year-olds from disadvantaged families offered 15 hours of free high-quality nursery care each week.
These crucial early-years services will be offered alongside the existing very popular "stay and play" family provision.
The centres - Yvonne Carr on the Patmore estate, York Gardens in Battersea, Franciscan and Hillbrook in Tooting, will offer young families stay and play, early education, health visiting, speech and language therapy, child and adolescent mental health services for under-fives, groups for parents with low mood and post-natal depression and family support services.
Yvonne Carr will expand its range of services to offer a whole package of new ones, including not only support for the under-fives but additional services including activities for children over five of both primary and secondary age ranges.
At York Gardens, which is currently rated outstanding by Ofsted, additional services are to be offered for children with vulnerabilities such as social, emotional and mental health needs. It will also continue to offer baby clinics, support from health visitors, speech and language therapists, the early years child and adolescent mental health service, parenting and group work for parents and carers, support to access education, employment and training including ESOL (language) classes.
To ensure these services can be delivered whilst continuing to provide play-based learning opportunities including stay and play at the existing York Gardens site some modifications will be needed to the building, and it will eventually be replaced by a bigger and better new-look children's centre from 2023 onwards when a brand new one will be provided as part of the wider Winstanley and York Gardens regeneration scheme.
Stay and Play is also offered within buggy pushing distance at York Gardens Library and this will also continue as part of an integrated offer for young children and families in the area.
Franciscan and Hillbrook would be merged to create an enhanced offer of services for young children in the area across the two sites and also at Tooting Library. Services will include Stay and Play including Baby Rhyme Time, Story Time, Ballet Babies. A full range of early year's services will be provided at Hillbrook, while Franciscan will offer targeted support for more vulnerable families with children aged up to four.
Wandsworth's cabinet member for children's services Cllr Sarah McDermott said: "We know how important early learning is for families which is why we are expanding and improving the services we offer at these children's centres.
"We are committed to finding the best ways to have a really positive impact on the lives of all our younger children and their families but this is especially true of our most disadvantaged families who need the most help and support.
"And we know just how important and valued our popular "stay and play" services are within the community, which is why this crucial provision is being retained and enhanced as part of this wider package of improvements.
"Our strategy is all about having friendly, caring professionals who reach out and listen to families. We want getting help to be simple and for it to be provided in settings that can offer joined up and connected support to young children and their families."
EIF is a research charity, focused on promoting and enabling an evidence-based approach to early intervention. Its work focuses on the developmental issues that can arise during a child's life, from birth to the age of 18, including their physical, cognitive, behavioural and social and emotional development. Its work covers a wide range of policy and service areas, including health, education, families and policing. It says effective early intervention works to prevent problems occurring, or to tackle them head-on when they do, before problems get worse. It also helps to foster a whole set of personal strengths and skills that prepare a child for adult life.