Educational trust that launched Britain's first purpose-built Muslim state school celebrates its 25th birthday
Published: Friday, March 29, 2019
Celebrations have been held at Wandsworth Town Hall to mark the 25th anniversary of the launch of the educational trust that established Britain's first purpose built and voluntary-aided Muslim primary school in the country.
The Al-Risalah Educational Trust, which established the Ofsted-rated "outstanding" Gatton Primary School in Tooting, celebrated the landmark occasion with a formal event last night (Thursday) at the Wandsworth Civic Suite.
The trust now operates five schools for children of all ages, from nursery to secondary level. Although it has an Islamic-oriented ethos, its schools are committed to the education and advancement of all children irrespective of race, religion, creed or cultural heritage and employs staff from a diverse range of backgrounds.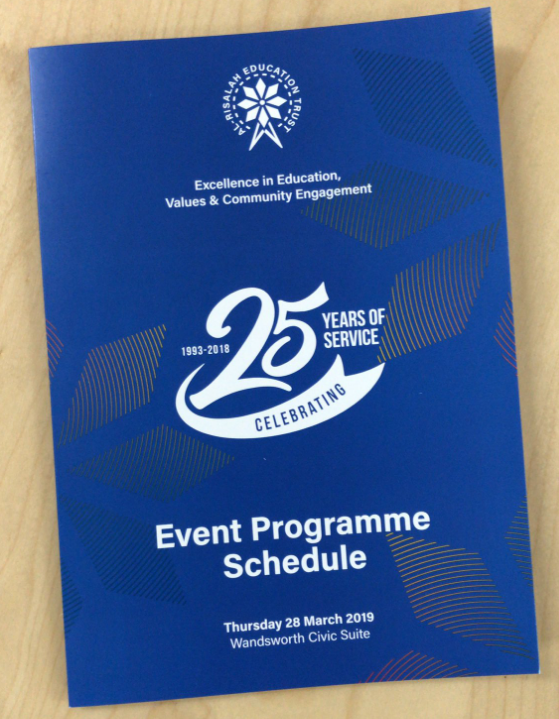 Among the guests at last night's event was council leader Ravi Govindia, himself a former Governor at the school.
In a keynote speech to mark the occasion he told assembled guests: "At the core of Wandsworth Council's commitment to education has been its belief in promoting diversity and choice of high-quality schools for local parents.
"When the Al Risalah Trust approached the council shortly after its inception in 1994, with the ambition of opening a primary school in Tooting, we saw this as potentially a perfect opportunity to deliver on our commitment.
"Gatton School opened in the late 1990s, initially in the Tooting Islamic Centre, and when the new building opened in 2004, it became the first purpose-built Muslim VA primary school in the country. The school quickly became over-subscribed and so the Trust opened a second site in Balham two years ago. In 2014, the school achieved an "outstanding" grade in its Ofsted inspection.

"As leader of the council, I am therefore delighted that the trust has delivered on all its promises and has given local people a school which works hard to maintain strong links with the whole community (through the Balham and Tooting Community Association), with local churches and other local schools.
"Money from community fun days has been raised to support St George's Hospital and other local charities. The relationship of the school, its governing body and the trust, with the council has always been positive and constructive, and the continuous guiding presence throughout has been Maksud Gangat, who has provided clear and aspirational educational leadership for the trust and impeccable relations with the council."
As part of the celebrations the Trust presented an award to Wandsworth Council in recognition of the support it has given the trust over the past 25 years
The award was received on behalf of the council by its cabinet member for education Cllr Sarah McDermott and its director of children's services John Johnson. Cllr McDermott was a governor of the school when it achieved its Ofsted rating of "outstanding"