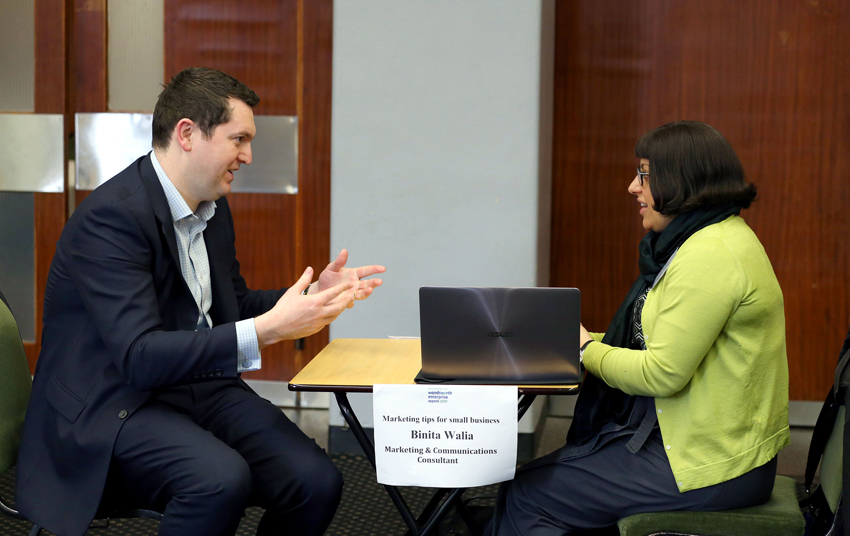 Cllr O'Broin meets marketing expert Binita Walia at a one-to-one advice session
Previously known as Wandsworth Enterprise Week, the business support event now features a whole month of talks, advice sessions, panel discussions, networking opportunities, workshops and more.
The council's business spokesman Cllr Rory O'Broin went along to chat to local business people making the most of the free expert guidance at one of the first events, Start Up Wandsworth, which aimed to inspire people to start or grow a business. 
This week has also featured free one-to-one advice clinics with experts, tips on how to use social media to grow your business and how creative business owners can negotiate and strike good deals, information on free support available to explore business opportunities abroad and a special session to enable food businesses to network and collaborate.
Feedback so far has been positive. Anna, who attended Start Up Wandsworth to get advice on starting her own business said it had been "fantastic and very inspiring – I'm chomping at the bit!"
Many sessions are now sold out, but there's still time to get tickets for masterclasses on public relations and creating websites on WordPress, advice for over-50s female entrepreneurs and the Ready Stead Grow session on how to scale up your food business.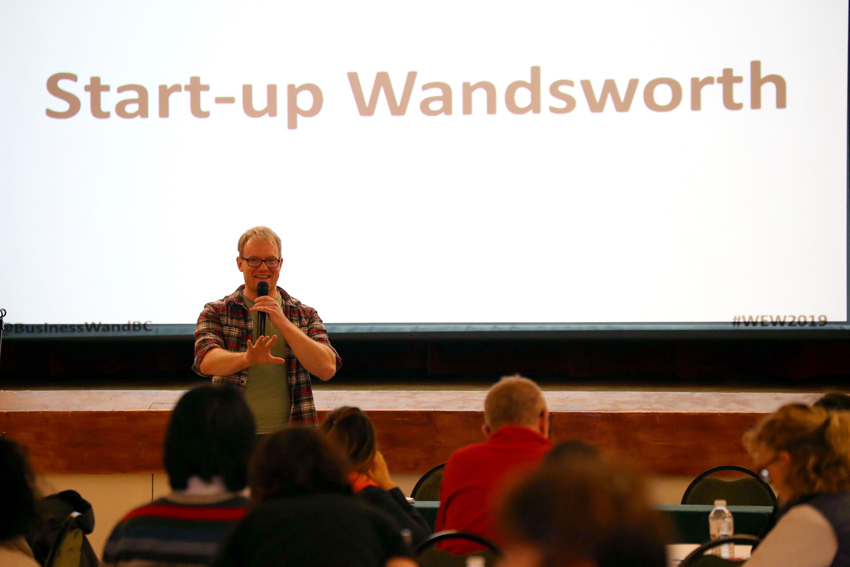 Henry C. Blanchard inspires at Start Up Wandsworth
On Saturday go along to Southside Shopping Centre in Wandsworth between noon and 3pm to support young entrepreneurs as they showcase the products and services they have developed.
Wandsworth Enterprise Month is organised by the council's Economic Development Office, which provides advice and support to the borough's business sector.
Wandsworth's business spokesman Cllr Rory O'Broin said "It was really inspiring to see so many people making the most of the support on offer here in Wandsworth. It's a key priority of the council to support local entrepreneurs and help nurture businesses so that they can thrive, provide jobs and be the engine of growth in our borough.
"There's still some tickets left, and we're especially keen to let women know that we have specially tailored events to give them the support they need to realise their business ambitions."
Wandsworth Enterprise Month takes place between March 4-29 at venues across the borough and the majority of events are free. Numbers are limited so must be booked in advance. Priority will be given to Wandsworth businesses and residents.
To find out more about any of these events, or to book your place, visit wandsworthenterprisemonth.biz or email wew@wandsworth.gov.uk