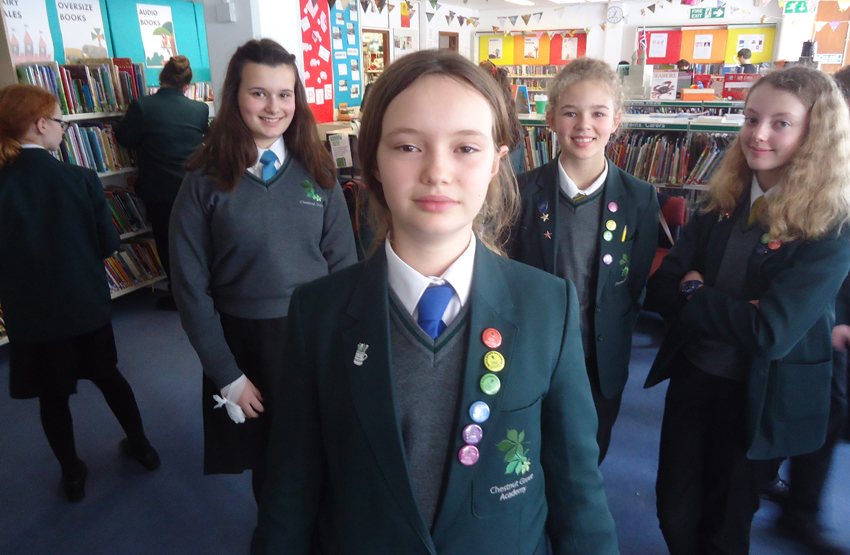 Lucy and classmates
There is a danger that we take our libraries for granted.
But following an event organised by Book Aid International, many local schoolchildren and their teachers now have a greater appreciation of this wonderful, free resource.
The charity recently came to Balham Library to give a talk for a group of Year 7s and 8s from Chestnut Grove Academy.
Every year Book Aid International sends 1.3m books to remote places in war-torn and impoverished countries. In many of these places children rarely read new books and the concept of a vast public library, where you can take out armfuls of books at a time, is an alien one to them.
"We send books around the world, mainly to East Africa," said Sally Victor from the charity. "We try to send them to the places where people don't have any kind of access such as a remote community in Zimbabwe where we had to set up a donkey library so donkeys could take our books to the children. In some African schools it can take a long time to get books from the government. I was talking to one teacher in Uganda and they told me that when they order a book it can take six years for the school to receive it!"
Sally gave a presentation to the group and asked them what their favourite books were. She then told the room that when she asks this same question to children in the African schools they visit, the answer is usually the name of a maths, English or science text book because the children there don't have access to any story books.
"And the really satisfying part of my job is when I go back a year or so later after they've received our books," she said. "They can then talk about their favourite story books and the teachers always say how the children have improved in confidence and reading skills."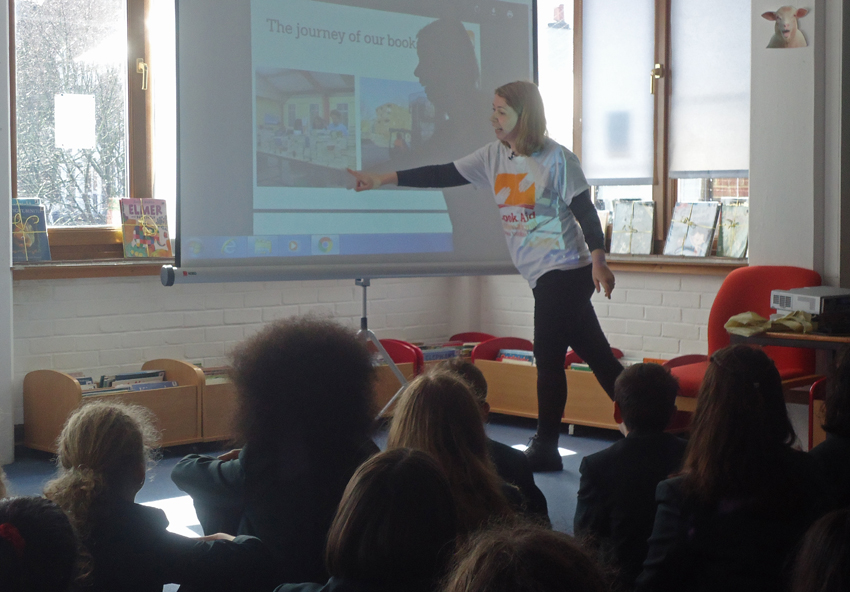 Sally Victor explains the project to students
"It made me feel lucky that we have all these resources which we just take for granted," said Lucy, aged 12. "Libraries are so important because if you don't have enough money to buy books you can borrow them here for free."
"And libraries are important to a community because you can meet new people who also like reading," added Izzy, aged 11. "The presentation made me appreciate more what I have. I love reading but I don't have a favourite author as I like all books…it's like they are my children!"
The event was the latest in a number of free events organised by Balham Library.
Izzy
"It's wonderful to have events like this," said Katherine O'Herlihy, Chestnut's school librarian. "And we came today because we thought this would be something the children would benefit from seeing. I'm always telling our students to make use of their local library, especially in the holidays when the school one isn't open. They can use the computers here and feel safe and happy and the library is open late in the evenings which is really good for the students, especially in the exam season."
"The work Book Aid International does is mind-blowing and it was so good to have them here," said Lucinda Murray, children's librarian at Balham Library. "I feel apologetic when I tell people they might have to wait two weeks for a book they ordered – I can't imagine waiting six years! We do lots of events for primary schools and we now plan to do more events for secondary schools."
See what's coming up at Balham Library at www.better.org.uk/library/london/wandsworth/balham-library
We would love to hear about what makes your favourite Wandsworth library. Simply send us and Wandsworth Libraries a tweet to @wandbc & @wandsworthlibs and remember to include the hashtag #gettoknowyourlibrary
Find out more about the range of activities and groups on offer at www.wandsworth.gov.uk/libraries