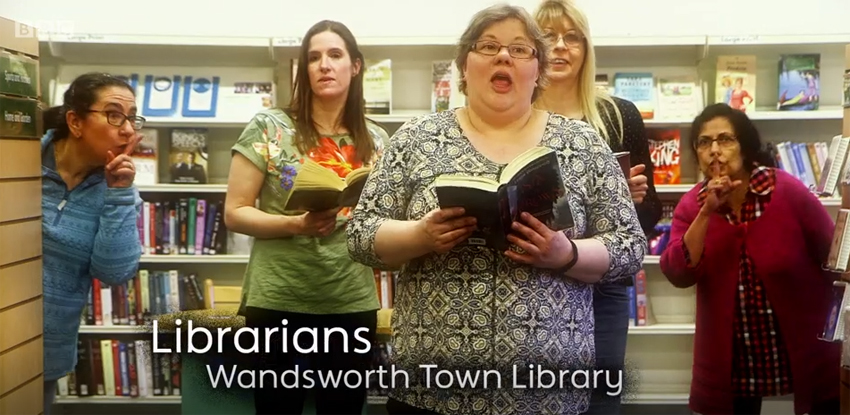 But instead of issuing books millions of viewers would have seen the six-strong team singing and dancing with trollies – a far cry from the traditional view of libraries and librarians!
This unexpected performance had come about because Richard Carpenter of The Carpenters' fame was appearing on The One Show. Producers thought it a fun idea for different groups of people to sing a few lines from some of their famous songs…so the search was on for librarians to sing There's a Kind of Hush – with the old associations of 'hush' for a library.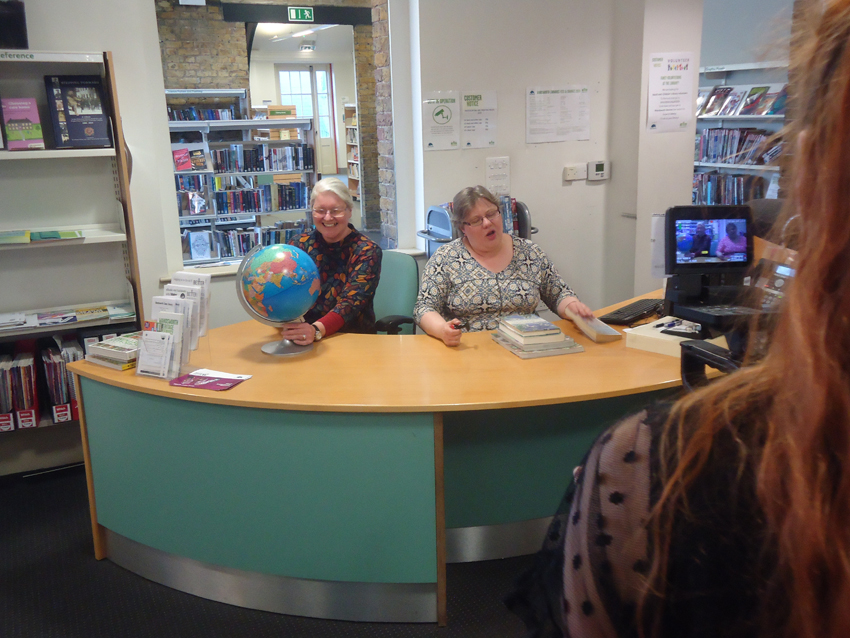 Carol and Kate in action
"At lunchtime on Friday I received a phone call from the BBC asking if they could use our library," said Kate Halabura, Wandsworth Town Library's manager. "They said they needed a nice library and ours was perfect. They apologised for the short notice and then asked if we wouldn't mind doing a bit of singing! We are closed on Mondays so I then had to persuade some of my lovely staff to come in at 8am with the promise of cake!"
So, bright and early, Kate and her team spent a couple of hours with a BBC camera crew singing and acting out the opening verse from There's a Kind of Hush on a Monday morning they won't forget in a hurry.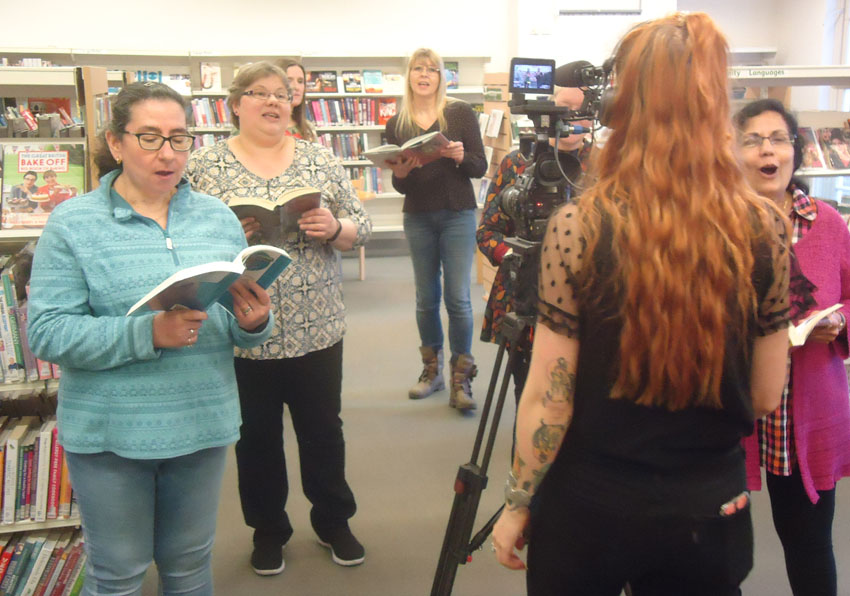 The singing staff are filmed by director Jo
"It was very entertaining and certainly a different start to my week," said Carol Vince-Lawer, senior library assistant, laughing. "Kate sent a begging email on Friday afternoon promising cake if I turned up at 8am. She then happened to mention we would be singing…but I can't sing!"
"They were all so easy to work with and very enthusiastic," said Jo Llewellyn, the BBC director of the piece. "We chose Wandsworth Town Library because I loved the look of it online and Kate was lovely on the phone which always makes a massive difference."
You can catch up with Monday's show, and see our fabulous librarians in action, on BBC's iPlayer.
As part of our #gettoknowyourlibrary celebration of Wandsworth libraries we're focusing on the wonderful variety of groups, events, resources and services they have to offer.
We would love to hear about what makes your favourite Wandsworth library. Simply send us and Wandsworth Libraries a tweet to @wandbc & @wandsworthlibs and remember to include the hashtag #gettoknowyourlibrary
Find out more about the range of activities and groups on offer at www.wandsworth.gov.uk/libraries