Just over three weeks to go before launch of London's new Ultra Low Emission Zone
Published: Thursday, March 14, 2019
With less than a month to go before a new charge will begin to be levied on some motorists in central London, residents and businesses are being urged to familiarise themselves with the new rules.
On Monday, April 8, the Mayor's new Ultra Low Emission Zone (ULEZ) will come into effect and apply to all vehicles entering the area of central London covered by the existing congestion charge zone.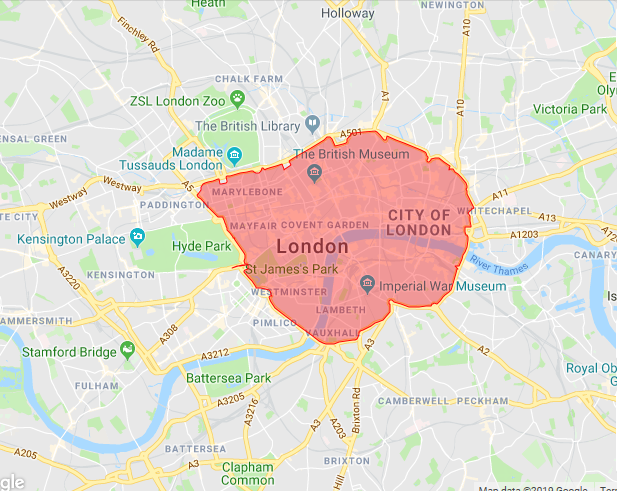 New rules will apply to drivers entering this zone from April 8
New exhaust emission standards will come into force affecting all vehicles that enter the zone. Those that don't comply will need to pay a daily charge - £12.50 for cars, vans and motorcycles and £100 for buses, coaches and lorries.
The congestion charge will also continue to operate. The daily fee for non-exempt vehicles entering the charge zone will remain at £11.50.
This means that non-compliant cars entering the zone on weekdays between 7am and 6pm will need to pay £24 per day.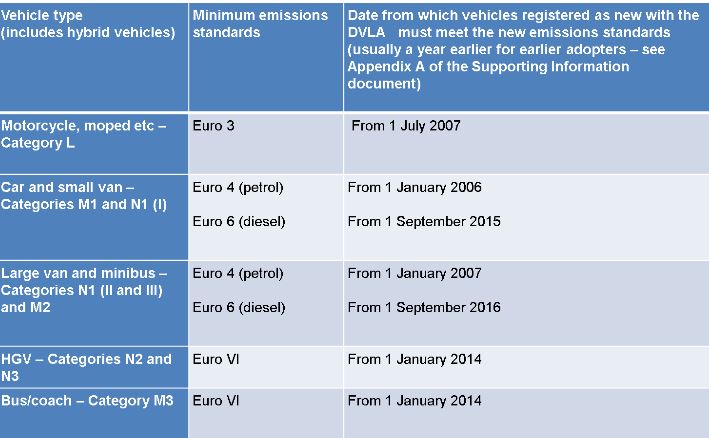 Which vehicles will be affected
At all other times of the week only the ULEZ element will be levied. These new rules will apply 24 hours a day, seven days a week.
Non-compliant vehicles include:
• Motorbikes that do not meet Euro 3 standards (roughly the equivalent of not being more than 12 years old in 2019).
• Petrol cars and vans that do not meet Euro 4 standards (roughly the equivalent of not being more than 13 years old in 2019).
• Diesel cars and vans that do not meet Euro 6 standards (roughly the equivalent of not being more than four years old in 2019).
• Buses, coaches and lorries will need to meet or exceed the Euro VI standard or pay £100 a day.
Drivers can use TfL's online checking tool to see if their vehicle meets the ULEZ's emissions standards.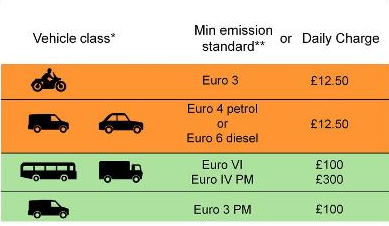 Charges for non-compliant vehicles
The introduction of the ULEZ in central London is set to be followed in 2021 when the Mayor plans to roll out the zone to cover a much larger part of the capital – including much of Wandsworth.
Under the Mayor's proposals the zone will expand in October 2021 to form a new boundary with the South Circular Road. This means half the borough will be within the zone and half outside it.
This would affect anyone driving within a zone whose southernmost boundary was marked by the Upper Richmond Road, Wandsworth High Street, East Hill, Wandsworth Common Northside, Battersea Rise, The Avenue Clapham Common West Side and Clapham Common Southside. Anyone driving north of these roads would need to comply with the new ULEZ regulations. The northern boundary of the ULEZ would be the North Circular Road.
In 2021 the ULEZ will be extended to cover a much larger area of London