Where does your recycling go?
Published: Friday, September 20, 2019
Next week is Recycle Week, and this year Wandsworth residents are being reassured that the items they put out for recycling really do get recycled, as long as they put them in the right bag or bin.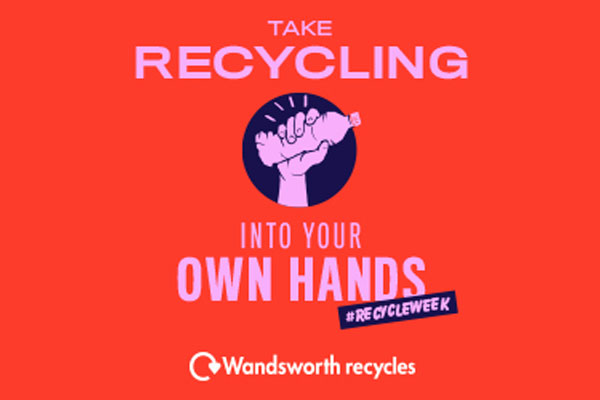 Wandsworth tries to keep recycling as simple as possible, by giving resident clear sacks or orange-lidded bins into which they can put all their recycling. Recycled items are then turned into new items.
But putting too many of the wrong items in a clear sack or recycling bin can cause the whole load to be 'contaminated' – which can mean it has to be kept separate from other recycling and taken to the energy-from-waste plant for incineration. This can mean a clear sack that has items such as polystyrene or old clothes in is thrown into the waste side of the split-back bin lorries rather than the recycling side.
Contaminated recycling that finds its way into the recycling stream also costs council tax payers' money, because the council has to pay firstly to sort it and then again to dispose of the contamination element along with other general rubbish.
The council is also keen to recycle more plastics, metals and textiles to help it reach its ambition to become inner London's greenest borough. It has pledged to become carbon neutral by 2030 and a zero carbon council by 2050.
The only things that should be put in recycling sacks or banks are:
Clean, dry paper and card/cardboard (excluding shredded paper)
Glass bottles and jars (no broken glass in clear sacks please)
Plastic bottles, pots tubs and trays
Cans and tins (except aerosols, which have a tendency to explode at the plant)
Food/drinks cartons (e.g. TetraPaks)
Shredded paper is excluded because it is difficult to recycle and because it finds its way into the glass stream at the recycling plant. Please put it in with general rubbish, where it burns well at the energy from waste plant.
Please squash plastic bottles and replace the lids. Any metal lids should be removed and recycled by including loose with the materials listed above.  Get full details of what can and can't be recycled at www.wandsworth.gov.uk/recyclefromhome.
The main contaminants include general rubbish, food waste, carrier bags, shredded paper, electrical items and clothes and other textiles. Find out what to do with things you can't recycle at www.wandsworth.gov.uk/recyclinga-z.
The Western Riverside Waste Authority, which processes the waste and recycling for Wandsworth and three other London boroughs, has produced a guide to where your recycling goes. See it here.
Cabinet member for community services Steffi Sutters, said: "We have set ourselves ambitious targets in Wandsworth to become greener and help tackle climate change. We will do all we can to achieve this, but we would urge residents to lean in with us and increase their recycling rates, to produce as little waste as possible and to help prevent plastics finding their way into our rivers and seas.
"In return we can assure them that waste that is recycled will be used to produce new items such as turning crushed recycled glass into materials used for road surfacing. I would recommend visiting the Smugglers Way recycling plant if you are interested in how recycling works."