Thank you for all that you do
Published: Thursday, April 9, 2020
In these difficult times we are asking the community to come together and thank the unsung heroes of Wandsworth.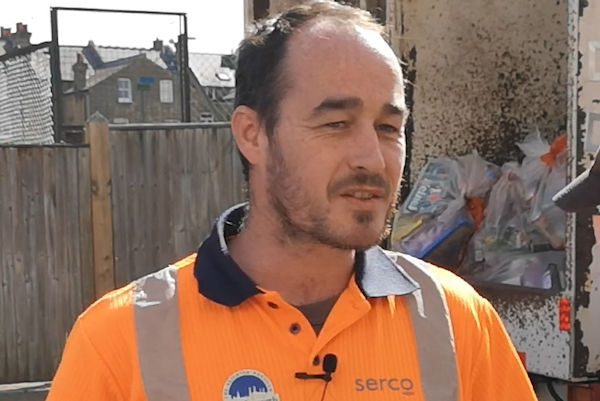 We would like to show our gratitude to all the refuse collectors, street cleaners, fly-tip removal crews and parks police, to name just a few of the men and women, who play such an important part in keeping our borough clean and safe during the coronavirus crisis.
Every week our dedicated waste crews keep 400km of our streets free from litter and collect rubbish and recycling from 146,000 homes, so we would like to thank our bin men and women by writing them personal messages to leave out with your recycling.
Working on the council's behalf the Serco refuse collectors and the team at Continental Landscapes, who sweep the streets and remove fly-tips, do a truly amazing job. They'll be out and about this Good Friday and Bank Holiday Monday making sure that rubbish gets collected.
We're encouraging kids to get creative with thank you notes. They can write, draw or paint messages on waste-paper and card and attach them to recycling bags when they are put out on bin day.
"While many of us can work from home this is not possible for some of our fantastic staff who have to collect the bins or keep our parks safe," said Cllr Steffi Sutters, cabinet member for community services.
"I am immensely proud of their commitment and hard work and I think it's such a great idea for them to be recognised in this small way. I'm now looking forward to seeing your colourful creations all over social media!"
Parents are encouraged to upload their children's handiworks to Facebook, Twitter and Instagram with the hashtag #MyWandsworth #ThankYou. Notes and messages of support can be uploaded for our refuse collectors and any key workers you think deserve praise and appreciation.
Serco refuse collector, Scott Forrester, explains how the team have already been getting messages of support; "It's beautiful, it's really, really nice. We've kept everything, and at the yard we've got a wall just full of all the messages and pictures, and even little scribbles.
"It's lovely – it's like Christmas. It makes it worth doing again. People have been treating us like the NHS, the come out and give us a little round of applause, say hello, say thanks you, it has been quite nice."
Throughout the crisis, normal rubbish and recycling collections will be continuing as normal. However, in line with government guidance regarding social distancing the Smugglers Way and Cringle Street waste facilities are closed to residents until further notice. Help us keep waste to a minimum Also, while you are being asked to stay at home, there are some important things you can do to help,
Bulky waste and garden waste collections have been temporarily paused until further notice. Please don't 'clear out' your homes or leave any bulky waste items for collection. Store your items in your homes for collection until the day that restrictions are lifted.
Don't put garden waste out. For tips on composting check out the council's website for further information www.wandsworth.gov.uk/composting
If you have symptoms of the Coronavirus (a new continuous cough and/or high temperature) double-bag personal waste that may be contaminated, such as tissues and disposable cloths – i.e. bag it and then put inside another plastic bag, and keep separate from other waste in your home. Make sure to keep in your house for 72 hours before leaving it out for collection.
Keep an eye-out for further information on main homepage of the council website www.wandsworth.gov.uk