Get plogging this Saturday
Published: Thursday, January 30, 2020
The first Wandsworth plog of 2020 will be this Saturday (Feb 1) in King George's Park.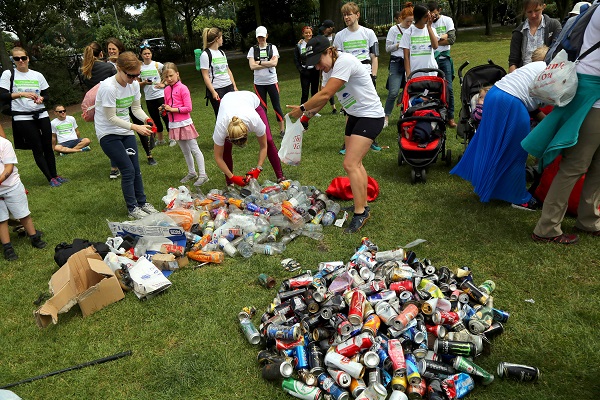 Plogging is the workout trend all the way from Sweden, giving you the double endorphin hit of not only keeping fit but also making a massive difference to your local community at the same time.
It's a combination of running, jogging or walking and the Swedish term "plocka upp," meaning pick up - and is coming back to Wandsworth in February.
The concept is simple. Rather than jogging on by the rubbish littered on the street or in a park, ploggers pick it up and dispose of it correctly instead.
Sign-up here for the first plog of the new year, on Saturday 1 Feb, from 11am-1pm.
Councillor Steffi Sutters, Environment spokesman, Wandsworth Council explains the ethos behind plogging and how it contributes towards the council's drive to tackle climate change,
"Last year we outlined plans to tackle the threat posed by climate change – and our ambition to be carbon neutral by 2030 and a zero-emission council by 2050."The threat of climate change is one that none of us can take lightly, so we are delighted to team up with voluntary groups like Plogolution.
"Plogolution was formed over a year ago. Their ambition is to tackle plastic pollution, which is now at crisis point, with 8 million tonnes of it hitting our oceans annually.
"Getting involved in a plog, is one small way we can help to tackle this, as well as all the other litter that people dispose of irresponsibly.
"At the same time, we are doing our bit as a council. For example, we take great care to plant and nurture trees across the whole borough. In total we look after more than 60,000 trees. Last planting season we planted 540 trees and in the last two years, twelve hundred and forty new trees were added to the overall total."
Read more about the council's work, to tackle climate change.
Michelle Parkes, Plogolution co-founder, goes on to explain their vision behind plogging: "We wanted to make a difference to the environment by hosting events all over London in a bid to create fit and happy communities that are dedicated to building an environment that we can be proud to hand down to future generations.
"We're excited about kicking off the new year, with a monthly plog in Wandsworth. We want to create a planet where plogging is no longer needed and our streets, parks and town centres are litter free. Clearly, we are a long way from achieving this dream, but with events like this we can get one step closer."
People of all ages and fitness abilities are welcome to come along; the Wandsworth plog has a 2k walk or a 5k run if you're keen to get your running shoes on.
All equipment will be provided including gloves, rubbish bags and a FREE Plogolution t-shirt. Everyone is welcome, so pop along and make some friends.