Get composting and involve the whole family
Published: Wednesday, May 13, 2020
To help reduce food and garden waste, as well as ease pressure on our weekly waste and recycling collection during the COVID-19 outbreak, residents can take advantage of special offers on composters.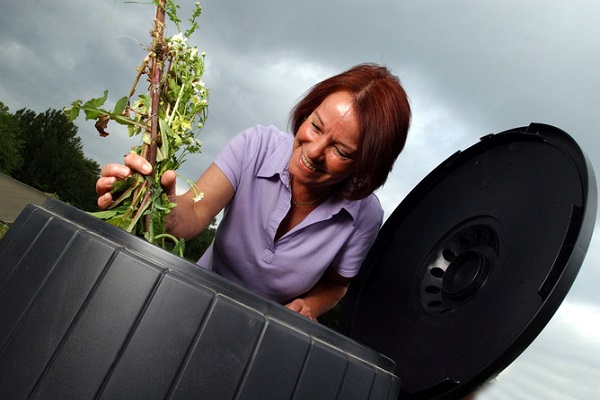 Discounted compost bins, water butts, bokashi bins, wormeries and more can be purchased by residents via our partnership with Getcomposting.com. This means people without small gardens, or even no garden at all, can compost much of their food waste, by using a bokashi bin, which is suited to small spaces and can be used indoors.
Cllr Steffi Sutters, cabinet member for community services and open spaces, explains the benefits of composting: "Composting kitchen and garden waste at home can cut rubbish by around a third, and there are lots of good reasons to compost. It saves money, saves resources, can help to improve your soil and can reduce your impact on the environment.
"During the coronavirus outbreak, composting has been more popular than ever. In fact, compost bin sales, through our Getcomposting offer, went up by 338 per cent compared with April last year."
Making your own compost
Compost can be made from uncooked vegetables and peelings, salad, old fruit, tea bags, coffee grounds, plant trimmings, grass cuttings, dead leaves, and dead bunches of flowers. And you can also get vermin-proof home composting containers – from getcomposting - that can accept all food waste, including meat, fish, dairy and cooked food.
To make the best compost you should aim for a balance of 50 per cent greens and 50 per browns. For a full list of what you can and can't compost visit the Recycle Now website. Recycle Now also have some really useful general tips and advice on why you should compost, as well as how to set up your bin, make compost and use it.
Did you know, according to Recycle Now, composting at home for just one year can save global warming gases equivalent to all the CO2 your kettle produces annually, or your washing machine produces in three months?
Online resources – activities for the whole family
Finally, as Councillor Sutters explains, composting is a great activity for the whole family to take part in.
"Composting is something you can get the kids interested in. For example, try making a meal using only natural products that can go in the compost bin.
"For more inspiration, there are lots of online resources with family activities from making your own wormery to setting up your own compost bin."
Visit the BBC website for more information: