Bring your bulky rubbish for free to our Mega Skips
Published: Friday, September 4, 2020
A special day in September has been organised for residents to throw out any of their large household waste items in one of seven massive skips, as part of Keep Britain Tidy's Great British September Spring Clean.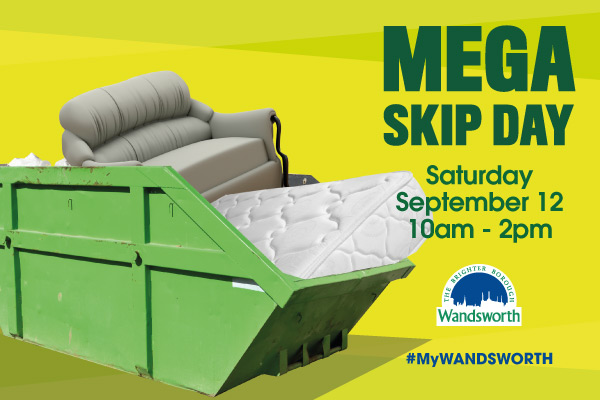 Normally, there's a charge for residents to dispose of bulky waste but on Saturday 12 September, between 10am and 2pm, you are invited to bring anything – for free - from sofas to mattresses and other large items - to one of the seven mega skips placed at seven locations in the borough. You can also bring black bags.

The 'mega skips' will be found in areas which have endured a high level of illegal fly-tipping in recent years and council staff will be collating figures of fly-tipping prior to the event and afterwards to judge their effectiveness.
Skips will be placed at:
*Church Lane Car Park, SW17
Google maps link: Church Lane Car Park
*Malva Close, SW18
Google maps link: Malva Close
*Acanthus Road, SW11
Google maps link: Acanthus Road
*Putney Park Lane, SW15
Google maps link: Putney Park Lane
*Oldridge Road, SW12
(between Ramsden and Balham Grove)

Google maps link: Oldridge Road
*York Road estate, Pennethorne House, SW11
Google maps link: Next to Pennethorne House (by the car park) on Lavender Road, opposite Arthur Newton House SW11 2TX
*Alton Estate, Downshire Field, SW15
Google maps link: Downshire Field, junction between Highcliffe Drive and Danebury Avenue
However, the skips are for household waste only – no business waste – and you cannot put anything hazardous in such as sharp objects, needles, dangerous chemicals, plasterboard and asbestos. We also cannot accept bricks, paint, concrete. cement and fridges. 
"This is a great opportunity for people to dispose of their unwanted household items for free," said Cllr Steffi Sutters, council spokesperson for the environment. "We spend more than £4 million a year on dealing with the blight of fly-tipping and picking litter off our streets so anything we can do to reduce this problem is a positive step forward."

Council staff will also be on hand to provide recycling bags as well as offering advice and the day itself is part of the MyWandsworth campaign to keep the borough looking its best. If the trial is a success, then the council will repeat it.

"Fly-tipping and littering is environmental vandalism that can ruin people's communities," added Cllr Sutters. "They not only create eyesores but are an unacceptable nuisance to public health that pollutes an area and attracts vermin."
Caught on Camera
Nearly two-thirds of fly-tips involve household waste while the most common size category for fly-tipping incidents is equivalent to a small van load. Wandsworth Council has a zero-tolerance approach to dumping and littering and has recently re-launched a YouTube CCTV, 'Caught on Camera' to catch people litter louts in the act.
Watch our most recent episodes on You Tube here,
Episode 2
Episode 3
If you recognise anyone dumping rubbish on Mellison Road, in Tooting, get in touch by email flytipwitness@wandworth.gov.uk
Waste services