Love Parks Hate Litter!
Published: Thursday, September 3, 2020
Over the summer Wandsworth Council has been celebrating the borough's green spaces under the Love Parks Wandsworth banner. We are fortunate to be one of the greenest of London boroughs with parks, open spaces and private gardens covering more than 40 per cent of our area.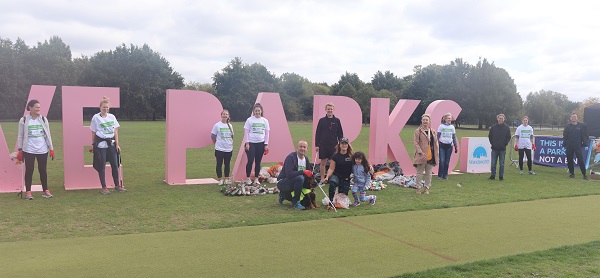 During the coronavirus pandemic the borough has seen a huge increase in the use of its greenspaces but, unfortunately, with this has come an escalation in littering.
In response a number of community litter picks have taken place and last Saturday saw another big event as the council joined forces with the Friends of Tooting Common as part of the Love Parks campaign.
Throughout the morning litter picks took place around the common as well as a plog – picking up litter while jogging or walking to help keep fit, organised by voluntary group Plogolution.
One litter picker, Maisie aged five, had one radical suggestion for dealing with the rubbish problem. "I think animals should make the people who drop litter eat it themselves!" she said.
From the plog alone a total of 25 rubbish bags, 84 glass bottles, 150 cans and 85 plastic bottles were picked up, proving what a major issue littering has become on the common.
"We were very glad to be involved in the community clean up to highlight the problem here," said Peter Ramell, the chair of the Friends of Tooting Common. "Tooting Common is an excellent, large space available for everybody but there is quite a serious litter problem so we're glad to be involved in helping to clear it and we want to emphasise how important it is for people to take their litter home with them."
Wandsworth Council, along with the Friends of Tooting Common, work hard to promote the use and enjoyment of the common and make it a better place for people and the environment. Over the past five years the Commons have benefited from a £1.9m investment from the Heritage Lottery Fund which restored and enhanced some key features of its cultural and natural heritage as well as engaging the local community in volunteering programmes.
These improvements included re-establishing ecological and biodiversity features, the development of the Woodfield Pavilion in to a new community hub, the addition of new information panels, to explain its heritage and diversity, and even a smartphone app boasting historic images, snippets of information and games. Like other friends' groups across the borough, Friends of Tooting Common are continually involved in the battle against littering to help ensure our green spaces can be enjoyed by everyone.
"Today has continued the great Wandsworth Clean Up," said Cllr Steffi Sutters, the council's cabinet member for community services and open spaces. "We are one of the greenest of London boroughs and it is incredibly important that we respect that, and we can keep our environment clean, tidy and good for the wildlife that live here."
Another way residents can get involved is by joining the Great British September Clean organised by Keep Britain Tidy. From Friday, September 11 to Sunday, September 27 individuals and local groups are invited to make a difference to their local environment and if you would like to organise a clean-ups in one of our fantastic parks then email parks@enablelc.org