Don't risk being caught on camera driving into a school street
Published: Tuesday, December 14, 2021
In a further boost to road safety around local schools, camera enforcement will begin next month at two 'School Streets' in Tooting.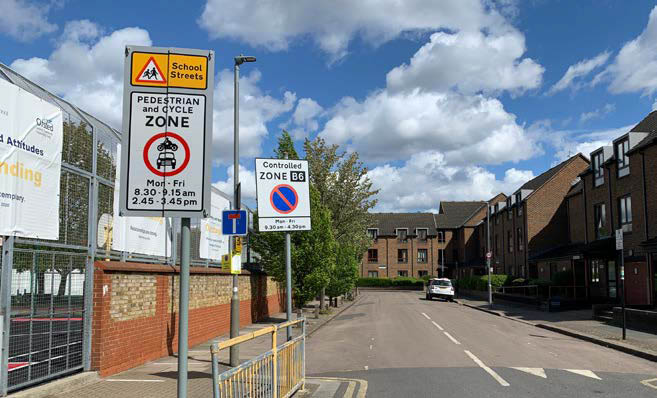 There are 19 School Streets across the borough. The initiative sees the roads containing school entrances turned into traffic-free zones when pupils arrive in the mornings and leave in the afternoons.
Their introduction is part of the town hall's efforts to boost road safety, encourage alternative forms of travel and help improve air quality.
To improve safety levels and deter drivers from encroaching into School Streets when they are in operation, ANPR cameras which recognise vehicle number plates have been introduced at some locations. These cover Earlsfield, Furzedown Penwortham and Hillbrook schools.
And from the start of next term ANPR cameras will begin operating at St Anselm's in Louisville Road and Penwortham School in Pretoria Road.
Some vehicles will be exempt from this camera enforcement – but unexempt drivers who enter the school street during its hours of operation face receiving a penalty charge notice.
Vehicles that will be exempt from these rules include those driven by residents who live inside the School Street zone, disabled motorists who possess a blue badge, parents or carers of disabled children who hold a WAND card, care workers and taxis visiting an address inside the zone.
The owners of these vehicles are being urged to complete an online application form so that they are not penalised by the cameras.
Motorists are alerted to the presence of a School Street by road signs displayed prominently at entrances to these zones, while at some locations retractable bollards and temporary barriers are used to further deter vehicle access.
Vehicles already parked in a School Street before its hours of operation come into effect can leave without being penalised or impeded. The schemes do not operate in the school holidays or at weekends.
For information on who is eligible to apply for an exemption to the restrictions and how to apply please visit the School Streets exemptions page on the council's website.
For more information on the scheme including which schools are part of the initiative please visit the School Street webpage.