Further COVID-19 measures to protect the vulnerable and NHS
Published: Thursday, December 9, 2021
Wandsworth residents are being urged to be extra vigilant as new measures are introduced to tackle the spread of the Omicron variant in the UK.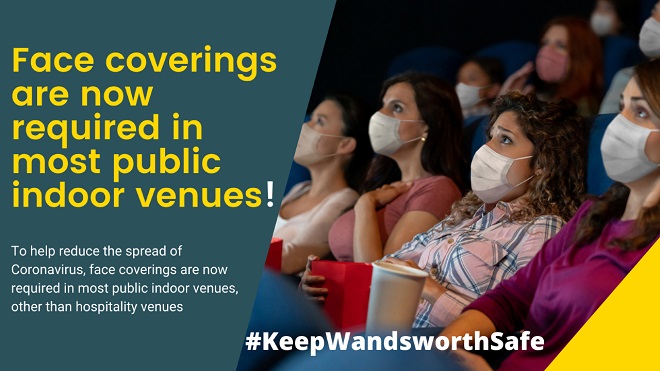 Last night (8 December), the Government announced a series of additional measures will be put in place following a rise in the number of COVID-19 cases over the past few weeks – some of which are now linked to the new variant.   
Additional 'Plan B' precautions to help people stay safe and prevent spread, include: 
From 10 December 2021, 

mandatory face covering rules are

 extended to most indoor public places and on public transport, including taxis, Council buildings and libraries (but will not include hospitality settings such as cafes, restaurants and pubs).

 

From 13 December 2021, guidance is for people to 

work from home if they can

. Anyone who cannot work from home should continue to go into work.

 

From 15 December, certain venues and events will be required by law to 

check that all visitors aged 18 years or over are fully vaccinated, have proof of a negative test

 in the last 48 hours, or have an exemption.

 
This announcement follows previous measures which have already been reintroduced including the mandatory face mask wearing on public transport, in shops, and other settings such as banks, post offices and hairdressers, as well as on public transport unless individuals are exempt from doing so. Children, staff, and visitors in secondary schools will also be required to wear face coverings when in communal areas.    
Whilst much is still unknown about the Omicron variant, there are concerns that due to the increase in the rate of new cases, pressure on the NHS this winter could lead to it being overwhelmed. The additional measures have therefore been introduced to help people stay safe and prevent spread while giving time for more people to be vaccinated and have the vital booster jab.  
Cllr Ravi Govindia, Leader of Wandsworth Council, said:  "These extra measures are a reminder that COVID-19 remains a serious public health threat, especially with the new Omicron variant and rising case numbers.  
"It is vital we all continue to do everything possible to protect ourselves and each other as we head towards Christmas.  This will help to minimise the spread, keep us on course for as close-to-normal Christmas as possible and prevent the NHS from coming under unsustainable pressure." 
Locally, the rate of new cases continues to be higher than the average for London. The rate in the past sevem days up to  December 3 in Wandsworth is 512.5 per 100,000 population. This is well above the London average of 451.7 per 100,000 and the England average of 493.3 per 100,00. The high rate of infections is largely driven by children of primary school age and those in secondary schools. We are also seeing a rise in infections amongst people aged 25-59 years, some whom maybe parents of school age children.  
The council is working closely with local schools to support and manage outbreaks. However, families are also encouraged to do their bit. Ensuring that they, and their children are following the rules, but also regularly testing and self-isolating if necessary.  
Over the next few days, the council will work closely to support local businesses as they move to introduce the new measures, whilst striving to support the NHS to ensure everyone has speedy access to a COVID-19 vaccination.  
CllrGovindia added:  "Just one year on since the first vaccination was delivered in London, I have been encouraged by how many residents in Wandsworth have stepped up and had the potentially life-saving COVID-19 jab. Whilst 81 per cent have already been double jabbed, we still need many more people to get vaccinated to help make us all safe.  
"We now enter a crucial period in the run up to Christmas and our health and care systems are under real pressure.  
"It's never too late to receive your first or second dose of the vaccine and the NHS won't ask why you haven't come forward before.  
 
"We want to do everything we can to ensure we keep supporting each other during what we expect to be a difficult winter period. So, let's dig deep and give a final push to combat this virus." 
Take these steps now to protect yourself:  
Get the coronavirus vaccine and booster as soon as you are eligible to do so

 

Take regular lateral flow tests, including whenever you will be in a high risk situation that day or before you visit people who are at higher risk of severe illness if they get COVID-19

 

Self-isolate immediately and book a PCR test if you have any COVID-19 symptoms

 

When meeting others, try to do so outside. If meeting indoors, make sure there is plenty of ventilation. 

 

Wear face coverings on public transport, in shops and other settings in line with the Government instructions.

 

In indoor settings where a face covering is not legally required, you should still continue to wear a face covering in crowded and enclosed spaces where you may come into contact with other people you do not normally meet.

 

Wash your hands regularly and properly is an effective way of reducing the spread of viruses

 

Work from home where possible

 
How to: