Guys Get Active is back
Published: Monday, December 13, 2021
Sign up now for Guys Get Active - a free community lifestyle programme designed specifically for men living or working in Wandsworth.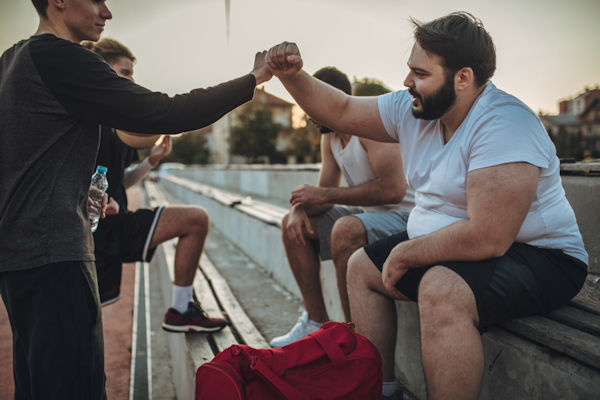 The programme is funded by Wandsworth Council and delivered by Enable Leisure and Culture's specialist Health and Wellbeing team. 
The project supports all men, whatever their ability, who are above a healthy weight to make lasting lifestyle changes. Evidence shows us that these changes will improve overall health and wellbeing and reduce the risk of diseases arising from a sedentary lifestyle and poor diet.
There are weekly individual 1-1 nutrition consultations with a behavioural change focus delivered by qualified nutrition professionals and a mix of physical activity sessions through the week. The three physical sessions are a virtual exercise class (via Zoom), a strength training session and a football session with rest days in-between. Everyone is welcome to the course – whatever your weight, fitness level or ability.
Previous participant Omar said: "I can't recommend the Guys Get Active program enough. I have always struggled with my weight and the nutrition sessions have been invaluable. The one-on-one sessions have allowed me to set meaningful goals and focus on my diet. The nutritionists have been incredibly supportive and knowledgeable. I have loved playing football again and with the help of our coach, have even managed to string a few decent passes together. It's a really fun way to exercise in a supportive team. For anyone thinking of joining the program, just do it. You've got nothing to lose other than the weight!"
Wandsworth Council's cabinet member for adult social care and health, Cllr Clare Salier, said: "Guys Get Active is a great way to get men up and moving, especially after being stuck at home during the pandemic. It's a fun way to get fitter, helps people make friends and stay connected and has real benefits for people's physical and mental health."
Guys Get Active is free for the first ten-week period and then just £2 a session should participants choose to continue. The true financial value of the program is £120 per person per week. Enable also offers a small gift to those who sign up before January; you can choose from a resistance band or a pedometer & accelometer to support your physical activity goals.
Guys Get Active is accessible for all. People with disabilities are encouraged to join and can speak to Enable's expert team to discuss any additional support or adjustments. For further information, please contact activelifestyles@enablelc.org or visit the webpage. 
Registration for the Guys Get Active is open now, and the programme is rolling, so participants can sign up anytime. You can join or learn more via the website.