Project to smarten up and improve bridge underpass at Wandsworth Town Station nears completion
Published: Wednesday, December 22, 2021
Work is nearing completion on a joint project involving Wandsworth Council and Network Rail to improve conditions for pedestrians and cyclists whose journeys take them underneath the railway bridge at Wandsworth Town station.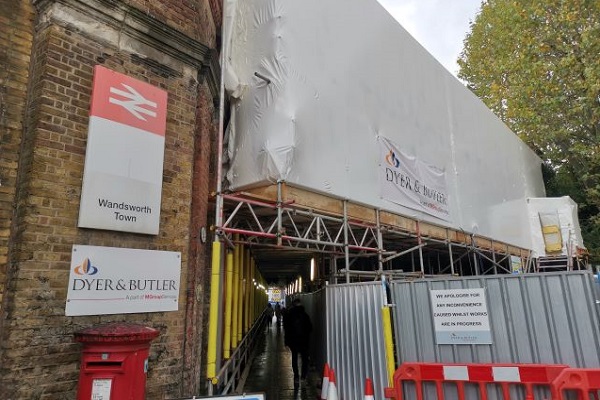 The project, which is expected to conclude within the next few days, is for a significant refurbishment of the Old York Road bridge underpass area.
The improvements to the underside of the bridge include the replacement and repainting of all panels, the jet washing of walls, improvements to drainage and a smartening up of the streetscape.
The council will also be upgrading the lighting under the bridge to improve safety for pedestrians, cyclists and other road users.
Attractive architectural or heritage style lampposts will replace the existing lamp columns, further enhancing the appearance of the underpass – and a new feature will include a colour cascade so that the bridge is lit up in different colours – making it a more visually attractive standout structure in Old York Road.
The council has contributed £400,000 towards the cost of the scheme.
Transport spokesman Cllr John Locker said: "This joint project has delivered a real improvement in the appearance of this prominent railway bridge. It is cleaner and smarter than it has been for years and the introduction of better lighting means it is much safer for pedestrians and cyclists. Thanks to Network Rail for working with us so closely to deliver these benefits for our residents."