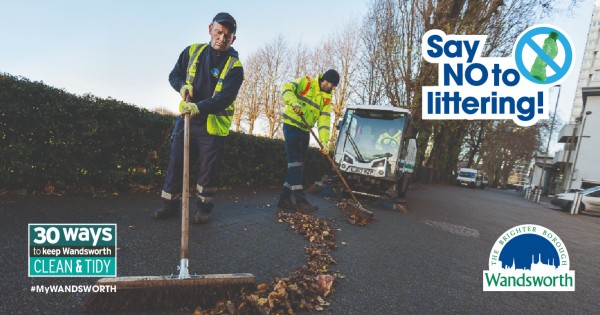 The campaign, in support of Keep Britain Tidy's drive to tackle post lockdown litter, will feature a post a day on social media to highlight what the council is doing to tackle littering and fly-tipping, as well as what each and every one of us can do locally to prevent litter louts from robbing us of our precious parks, natural habitats for wildlife, as well as our clean roads and town centres.
As a council, we work hard to tackle littering and fly-tipping,
Our street cleaners, road sweepers, rubbish collectors and enforcement officers work 24/7 to make sure your neighbourhoods are clean and litter-free.


Our busy town centres are cleaned up to five times a day.


We clean more than 400km of streets every week.


We crack down hard on fly-tip offenders – official statistics show that fly-tippers who dump their waste in Wandsworth are more likely to be caught and punished than in many other London boroughs.
But this isn't enough. An inconsiderate minority think they can get away with spoiling our borough, and that its ok to drop litter on our streets, park and town centres, as well as dumping waste illegally.

"Our message is simple, we won't tolerate people who dump rubbish on the streets of Wandsworth or litter and we will make concerted efforts to detect and penalise those who commit this environmental crime" said Councillor Steffi Sutters, Cabinet member for community services and open spaces.
"At the end of the day, litter isn't someone else's problem – it's everyone's problem. The cost of clearing up after the carelessness is too great and we all need to do you bit.

"We all have a responsibility to protect our environment, to help all the wildlife that die in our parks and rivers because of litter, as well as the damage caused by broken glass or worse."
Here are just a few of the things that everyone can do locally to help take a stand and say no to littering and fly-tipping,
Put your waste and recycling out correctly: visit our waste and recycling webpages to find about your responsibilities as a resident or business, as well as what you can and can't recycle.
Report fly-tip offenders: if you see someone dumping litter or fly-tipping, we need as much information as possible to help us prosecute the offenders.
Learn about littering and recycling: children aged from 3 to 7 can learn all about litter and recycling from a free educational platform called Earth Cubscreated by a Tooting resident.


Take your rubbish home: it's a really simple thing to do but next time you're out and about, and you've had a cup of coffee or a packet of crisps, take your litter home or use a bin. It doesn't require any effort and makes such a huge, huge difference to the environment.
Did you know?
More than 80% of litter that finds its way into the Thames is made up of single-use items such as metal drink cans, food packaging and plastic drinks bottles. 
Reduce your plastic consumption: read our nine tips to reduce the amount of plastic litter and avoid plastic consumption wherever possible.
To find out more about the campaign, and keep up-to-date with news about what we are doing to keep the borough looking at its best follow us on social media,