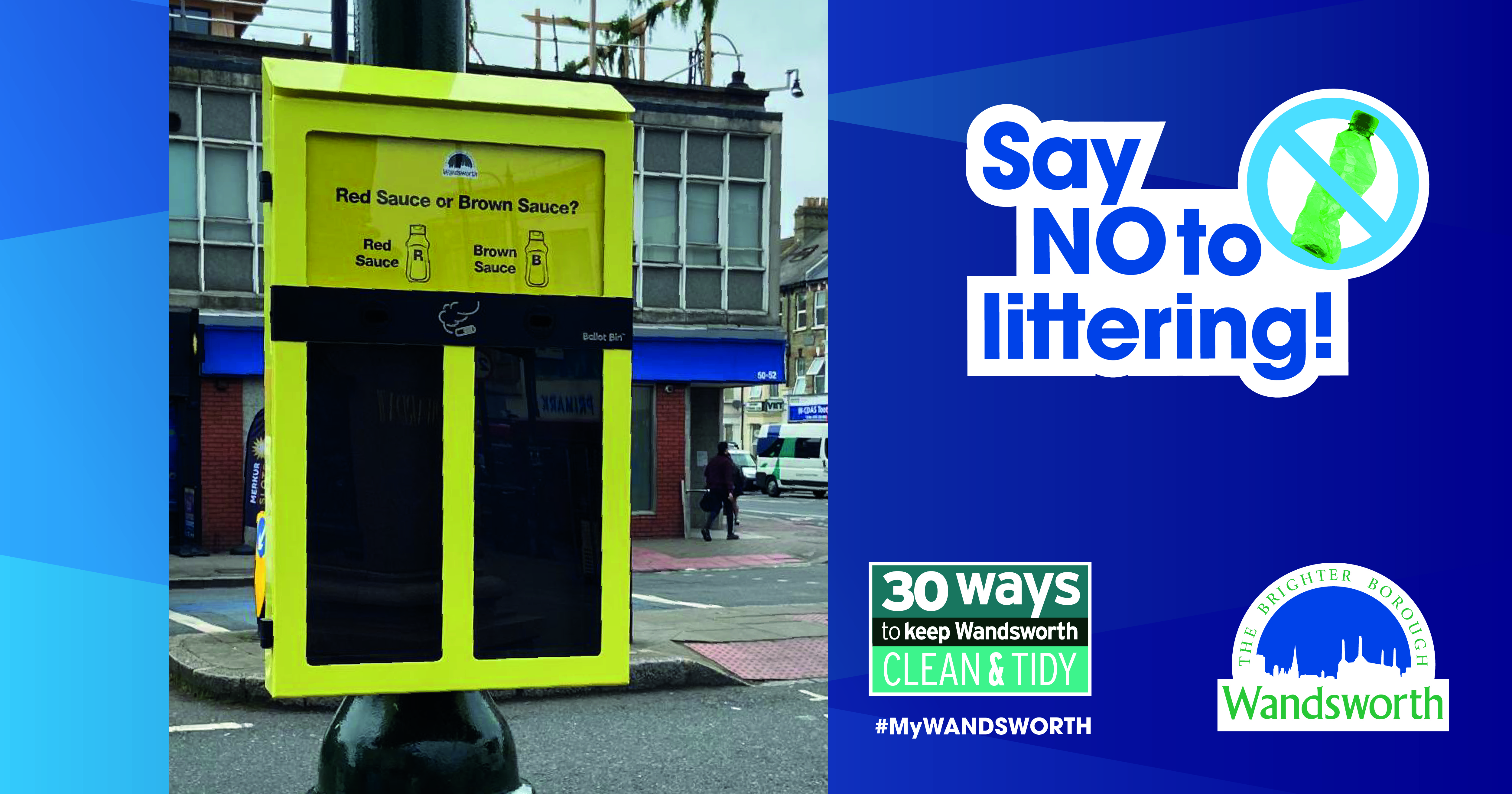 Smokers can vote by dropping their cigarette butt in the slot underneath their preferred answer, instead of littering the pavement, as part of the council's "30 ways to keep Wandsworth looking clean and tidy" campaign on social media.
We're kicking off by asking smokers to choose "Red Sauce" or "Brown Sauce" with their cigarette butts. The litter stacks up behind the clear glass front in two columns, showing which answer is more popular.
The new bin, which is part of the council's MyWandsworth initiative, is made by environmental charity Hubbub, and are proven to reduce cigarette butt litter by more than 40%.
Questions on the Tooting Broadway bin will be changed periodically and we are encouraging local residents to submit their own questions to go on the bin, just email mywandsworth@wandsworth.gov.uk
Councillor Steffi Sutters, Cabinet member for community services and open spaces.
said:

"Anything which helps to keep litter off of our streets has to be a good idea and these ballot bins are a particularly engaging way to combat this problem.
"People don't always think that cigarette butts are litter, but the reality is that they contain a plastic called cellulose acetate, along with heavy metals and other chemicals which are particularly dangerous for the environment, especially when they get into waterways and eventually the oceans.
"So please remember that dropping your cigarette butt is littering, and we will fine people that do, it's not acceptable and it is so, so damaging to the environment."
Wandsworth Council spends more than £4.3 million a year is spent on cleaning your streets, cleaning town centres up to five times a day and more than 400km of streets every week.

Find out more about the MyWandsworth campaign and how you can get involved
www.wandsworth.gov.uk/mywandsworth