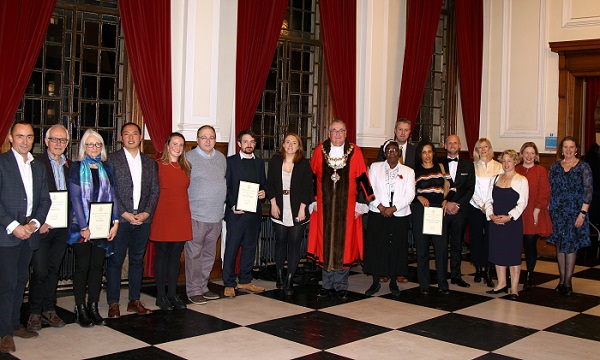 The Mayor of Wandsworth hosts the annual award ceremony to shine a spotlight on people who make fantastic contributions to day-to-day life in the borough.
Eight awards and a special citation were given to people and teams from across Wandsworth, recognising the efforts they have made to helping others.
Among the eight awards, four were given for the contribution individuals and groups have made during the pandemic throughout the borough, as well as a special environmental award.
Entertainment on the night was provided by the Wandsworth Music Service and Wandsworth Young Musicians of the Year pianist Evie Malin and vocalist Jasmine Djazel.
Wandsworth Mayor, Cllr Richard Field, said: "The Wandsworth Council Civic Awards is our chance to shine a light on, and say thank you to, our wonderful community champions that work so tirelessly across the borough but whose efforts often go unsung. Over the last 18 months so many people have stepped up and gone above and beyond with their response to Covid-19, helping those who may have been struggling during the pandemic.
"All of us in Wandsworth are deeply grateful to each and every one of our winners and it has been an honour to meet them and publicly acknowledge the effort and contribution they make to community life in the borough."
The recipients of a 2021 Civic Award were:
Richard Fox and Julia Bott
Richard and Julia are the founders of the Friends of Wandsworth Common which now has more than 600 members. They are dedicated to improving the environment of the common and organise walks and talks, as well as weekly litter picks. For the amazing work they do Richard and Julia have been given a special Environmental Civic Award.
Maxine Lincoln
Sub-Lieutenant Maxine Lincoln has worked tirelessly as a volunteer with the Wandsworth Sea Cadets for years, helping to run courses, taking young people aged between 10 to 18 on trips, as well as getting them to learn new skills, such as canoeing, rowing, cooking and windsurfing. She also helped keep the unit open with virtual parades and courses throughout the pandemic
Jennifer Beckford
Jennifer Beckford founded the Nicholas Stewart Project, after she lost her young son Nicholas to knife crime. The Project supports young people and Jennifer works incredibly hard to safeguard young people from becoming victims of knife and violent crime or turning to a life of crime. She also hosts an annual Community Day which takes place every year on the Henry Prince Estate.
Jonathan Dyson
Jonny Dyson is chair of the Northcote Road Business Network and has helped attract thousands of residents and visitors to the local area, especially through the Summer Fete and the Christmas Market and Christmas Lights switch on. He also played a crucial role in helping to make the pedestrianisation of Northcote Road such a success and has offered fabulous support and guidance to local businesses during the pandemic
Rosemary Taylor-Davies
Rosie Taylor-Davies wins a Covid-19 Civic Award for the work she undertook during the pandemic. She set up The Scrubbery, which is a voluntary organisation based in Roehampton, supplying protective items to those who need it. To date The Scubbery has provided more than 28,000 items of protective scrubs to London hospital trusts, GP practices and vaccination hubs across the capital and beyond.
Jonathan Palma
At the start of the first lockdown Jonathan set up the Roehampton Response Network – bringing together some 60 groups, charities, organisations, and individuals to reach out to those most in need. Thanks to the efforts of Jonathan and the Network literally hundreds of people have been helped during the pandemic. For his brilliant work within the Roehampton community, Jonathan receives a Covid-19 Civic Award.
Wandsworth Foodbank Volunteer Team
The Wandsworth Foodbank Volunteer Team have provided an absolutely vital role in the borough during the pandemic, winning them a Covid-19 Group Civic Award. In the last 18 months, these amazing volunteers have delivered more than 16,000 emergency food supplies to people's doorsteps across Wandsworth. Foodbank staff have also provided advice to hundreds of people, helping them resolve many of the difficulties that were causing them hardship and poverty.
Power2Connect
Power2Connect was set up in lockdown to collect, clean, refurbish and redistribute laptops to Wandsworth families who weren't otherwise able to get online. With schools closed nationally, getting laptops to families meant that they could stay connected and allowed children and young people to do schoolwork online. Power2Connect is made up of an amazing group of volunteers who win a Covid-19 Group Civic Award.
Jake Djalo
Jake Djalo receives a special Mayor's citation for a life-saving act of heroism, when, as working as a lifeguard at Putney Leisure Centre earlier this year, he saved a boy from drowning.