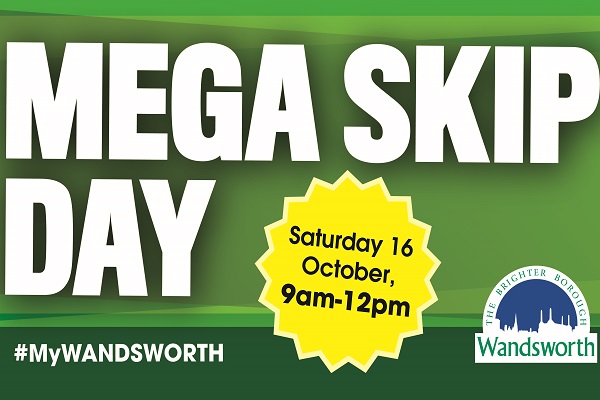 Normally, there's a charge for residents to dispose of bulky waste but on Saturday 16 October, between 9 am and midday, you are invited to bring anything – for free - from sofas to mattresses and other large items - to one of the mega skips placed at five locations in the borough. You can also bring black bags.

Given the high demand for the "Mega Skip Day" last time around, we have doubled the number of skips, but are limiting the number of items you can bring to no more than six items per household so that everyone has a chance to make use of the skips.
One bag of rubbish counts as one item, as does one sofa, one mattress etc…
Open to residents of Wandsworth Council only, bring ID e.g. a driving licence, passport or a utility bill. 
We can only accept certain items,
YES please to,
Household waste only: the skips are for household waste only – no business waste.
Carpet
Computers and IT equipment
Furniture - e.g. mattresses, sofas, tables etc...
Microwaves and small electrical appliances
Batteries (but no car batteries)
Bicycles
Cardboard
Black bags
No thank you to,
Hazardous objects or dangerous materials/chemicals: please do not bring anything hazardous in such as sharp objects, needles, dangerous chemicals, plasterboard, flammable liquids and asbestos.
Paint
Concrete
Car batteries
Cement, rubble or hardcore
Plasterboard
Engine oil/cooking oil
Fridges or other large electrical appliances

Mega skip locations
Skips will be placed at the following locations. As we expect high demand on the day, we will operate on a first come first served basis – and we'll update the locations below should any locations become full before midday,
Church Lane Car Park, SW17. THESE SKIPS ARE NOW FULL
Google maps link: Church Lane Car Park


Malva Close, SW18 THESE SKIPS ARE NOW FULL
Google maps link: Malva Close


Putney Park Lane, SW15 THESE SKIPS ARE NOW FULL
Google maps link: Putney Park Lane


Balham Grove, SW12 THESE SKIPS ARE NOW FULL
Google maps link: Balham Grove


Acanthus Road, SW11 THESE SKIPS ARE NOW FULL

These are all areas that have had a high level of illegal fly-tipping in recent years.

The council will be collating figures of fly-tipping prior to the event and afterwards to judge their effectiveness.
Yet official Government figures show that while fly-tipping continues to pose a major challenge for some councils and local communities across London – Wandsworth remains one of the capital's cleanest boroughs.


Cllr Steffi Sutters, council spokesperson for the environment said,
"This is a great opportunity for people to dispose of their unwanted household items for free.
"We spend more than £4 million a year on dealing with the blight of fly-tipping and picking litter off our streets so anything we can do to reduce this problem is a positive step forward."

Council staff will also be on hand to provide recycling bags as well as offering advice and the day itself is part of the MyWandsworth campaign to keep the borough looking its best. If the trial is a success, then the council will repeat it.

"Fly-tipping and littering is environmental vandalism that can ruin people's communities," added Cllr Sutters. "They not only create eyesores but are an unacceptable nuisance to public health that pollutes an area and attracts vermin."
Caught on Camera
Nearly two-thirds of fly-tips involve household waste while the most common size category for fly-tipping incidents is equivalent to a small van load. Wandsworth Council has a zero-tolerance approach to dumping and littering and has recently re-launched a YouTube CCTV, 'Caught on Camera' to catch people litter louts in the act.
Watch our most recent episodes on YouTube here,
If you recognise anyone dumping rubbish do get in touch by email flytipwitness@wandworth.gov.uk or call 020 8734 3032. 
 Waste services