Get to know your library: a place to lend an ear
Published: Monday, April 15, 2019
As part of our #gettoknowyourlibrary celebration of Wandsworth libraries we're focusing on the wonderful variety of groups, events, resources and services they have to offer.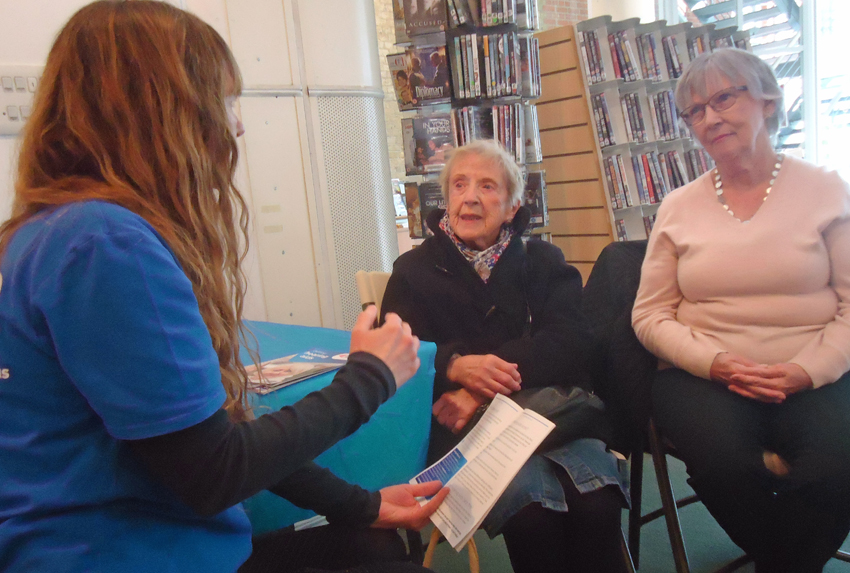 Our libraries have become a one-stop shop for a wonderful variety of free services.
Not just focused on books and reading, Wandsworth libraries now host workshops and sessions throughout the week to help residents with a variety of personal issues.
One such is Hear to Help taking place at Putney Library on the fourth Monday of every month between 3pm and 5pm.
Run by the charity Action on Hearing Loss it allows anyone with a hearing issue to pop in and meet friendly volunteers such as Melanie Hornsby who will offer one-to-one advice on personal problems.
"I do it for the love of it and I've been coming here for quite a few months now," she said. "Putney Library has been brilliant and without them letting us have a presence here then where else could we go to deliver this project? I've found them very accommodating and willing to help and they will also involve us if there are special events such as World Health Day or Deaf Awareness Week."
For two hours Melanie is on hand to chat with people, answer questions and signpost visitors with a table full of booklets.
"My two main queries are about tinnitus and hearing aids," she said. "Tinnitus is a big thing and there's no cure for it as yet but there's actually a lot of help out there for people. Doctors don't have a lot of time to give to people – it's not their fault, they are very busy – but here I have a bit more time to chat with people about their problems."
Over half-an-hour she chatted to them in detail about such things as: how their hearing aids actually work, loop systems, the pros and cons of buying a hearing aid in the private sector, and the difference between digital and non-digital hearing aids.
"It was extremely useful," said Barbara afterwards. "I have learned a lot and am now much more wary about the sort of hearing aid I'm going to buy. I'm now asking myself whether I really do need everything that's offered by a £4,000 aid as opposed to a £2,000 one."
"I would certainly recommend this to other people who have issues with their hearing," said Helen. "I like the fact you can talk one-to-one with someone and ask whatever questions you like. And I really like the fact this is on in the afternoon as I'm not that keen on coming out in the evenings. I was actually in Putney Library earlier today with my mobile phone as on Monday mornings at 11am they have folk around who can help with IT issues. It's amazing what libraries can do for people these days."
We would love to hear about what makes your favourite Wandsworth library. Simply send us and Wandsworth Libraries a tweet to @wandbc and @wandsworthlibs and remember to include the hashtag #gettoknowyourlibrary
Find out more about the range of activities and groups on offer at www.wandsworth.gov.uk/libraries