Get to know your library: spoilt for online services
Published: Monday, April 8, 2019
As part of our #gettoknowyourlibrary celebration of Wandsworth libraries we're focusing on the wonderful variety of groups, events, resources and services they have to offer.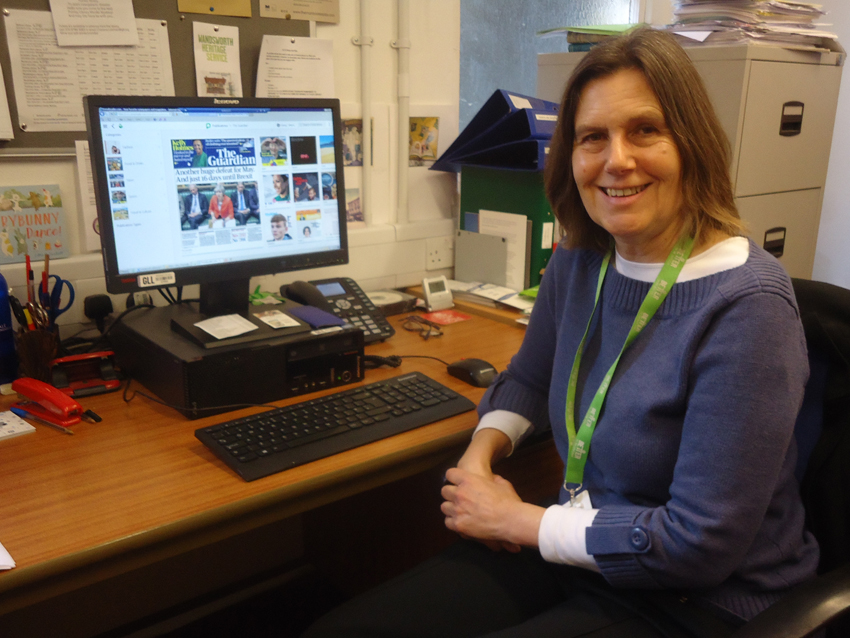 These days our libraries offer far more than books.
Once you have joined one of Wandsworth's libraries you can have the world at your fingertips thanks to the vast array of free resources available online.
All you need is your library card number to access some fascinating sites. Plus, for many of them, you don't need to be in the actual library but can enjoy what they have to offer from the comfort of your home or anywhere there's a web connection.
As part of our campaign to support your local library we met Hilary Manning, library specialist for information, in her basement office at Putney Library.
Hilary is in charge of monitoring and ensuring the smooth running of the borough's impressive e-resources and took time out from her busy schedule to help us navigate some of the most popular ones.
"We'll start with Press Reader which features newspapers and magazines from across the world," she said. "The idea behind this resource is that it feels a bit more like a newspaper – it's online but it's reproduced like a paper. Not all local authorities have Press Reader but it's a very good one to have."
Following another Brexit vote the previous evening we could look at, not just what the British press were saying but publications across Europe – thanks to an easy to use translation feature. There was also the option to search by language so we could find newspapers and magazines published worldwide in, say, German.
"And then there's the Oxford English Dictionary which, in hard copy, is a massive publication," said Hilary. "But here we have it all online. So this doesn't just give the definition but also the origins of that word and it will tell you when it was first noted along with references and a quotation. It allows you to do all sorts of different research and follow a variety of interests."
Another publication which would easily fill a whole bookcase is the Oxford Dictionary of National Biography. Containing a whopping 60,000 biographies it's a goldmine of information about anyone who has made some kind of impact on British life.
"The point about this resource is that it's authoritative," said Hilary. "There's usually a three-year delay from the date the person died so they can get the article absolutely right and get some perspective on the person. And the entry appears with a list of sources with various dates and it goes back hundreds of years."
To prove her point we found a biography of the Venerable Bede who died in AD 735. There's also a useful option allowing you to search by location so that anyone who has a connection with, for example, Putney comes up. The first one listed was MP Teresa Gorman who may have been the Member of Parliament for Billericay but was born around here.
"And it lists people like Ronnie Biggs because he escaped from Wandsworth Prison!" said Hilary. "You can have a lot of fun with this one."
Hilary went onto show us The Encyclopedia Britannica (which, apparently, is not published in hard copy any more) and a couple of practical websites – a Driving Theory Test Practice (a realistic simulation of the actual exam) and a Life in the UK test (useful for helping with a citizenship test). There was also Future Learn (featuring various courses such as one in basic English lasting four weeks) and The Times Digital Archive (featuring its newspapers from 1785 onwards – great for discovering what was happening in the world on your birthday!)
But the most popular site was still to come. Ancestry claims to provide access to ten billion historical records and has become the go-to resource for researching your family history. The only thing is you can't access it without paying a monthly fee…unless you happen to be a member of a Wandsworth library!
"You can't use this on your laptop at home," said Hilary, "But you can come into the library and people do spend quite a bit of time looking up their families. It's an incredible resource and all you need to do is put your name in and begin searching. There are all sorts of different records on there such as censuses, military records, some immigration records, and they are adding more all the time."
To find out more log onto your local library online, click on 'Services' and scroll down to 'Browse Online Reference Tools'.
We would love to hear about what makes your favourite Wandsworth library. Simply send us and Wandsworth Libraries a tweet to @wandbc and @wandsworthlibs and remember to include the hashtag #gettoknowyourlibrary
Find out more about the range of activities and groups on offer at our Libraries.