Get to know your library: where Shakespeare meets aliens
Published: Friday, April 12, 2019
As part of our #gettoknowyourlibrary celebration of Wandsworth libraries we're focusing on the wonderful variety of groups, events, resources and services they have to offer.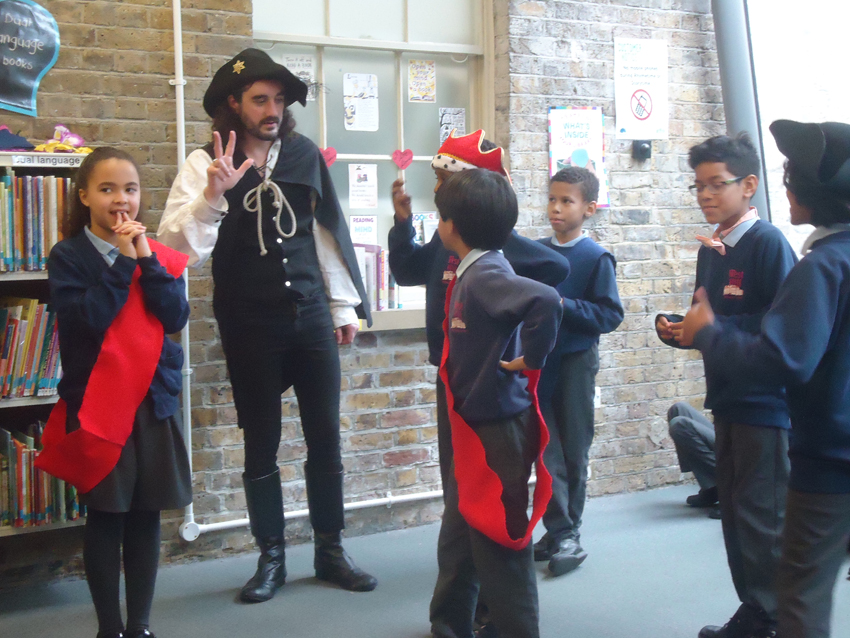 A workshop on A Midsummer Night's Dream was just one of the many free events for children offered by the library. It starred library assistant and actor, Timothy Weston, who captivated a class of Year 4's from West Hill Primary School with his dynamic retelling of the Shakespeare play involving students playing many parts.
"I thought it was great," said teacher Wanda Shaw. "The children really enjoyed it and got engaged. Some of them put their hearts and souls into the acting and it was a lovely opportunity for them."
"I enjoyed the play and really liked acting in it," said Ruqayyah who gave a brilliant interpretation of Oberon, the king of the fairies. "My favourite bit was when Puck and I were sprinkling the dust in the eyes of the lovers. I hope there are more events like this here."
The event was one of many held at various Wandsworth libraries to celebrate Shakespeare Week – an annual event to give youngsters an enjoyable early experience of our greatest playwright.
It was arranged by Lily Gray, the children's librarian at Wandsworth Town Library who, in the course of a day, can easily jump from Shakespeare to…space travel!
"Tim is amazing and he has a very good rapport with the children," she said. "We have lots of events here and I'm now preparing for this year's Summer Reading Challenge. This year the theme is 'Space Chase' so I'm trying to find people to do different spacey events for us. I already have three authors who have written books on space and aliens who will be coming here to read to the children. I'm so lucky!"
The challenge encourages children aged four to 11 to read six library books during the holiday. It's been noted that children's reading can dip during the summer holidays if they don't have regular access to books, so the challenge helps three quarters of a million children into libraries to keep up their reading skills and confidence.
"And it's amazing that Wandsworth has a children's librarian in every library," said Lily. "It's very rare. If you're here all the time it makes a difference because then you can build up a rapport with children and the local schools. I was here recently when two nurseries came in and they wanted books on dinosaurs – so I then ordered a load of new dinosaur books! It's knowing what stock to have in your library and you can only do that if the children's librarian is here on a full-time basis."
This year's Summer Reading Challenge is launched on Saturday, July 13. For more details of how to participate visit: www.better.org.uk/wandsworth-town-library
We would love to hear about what makes your favourite Wandsworth library. Simply send us and Wandsworth Libraries a tweet to @wandbc & @wandsworthlibs and remember to include the hashtag #gettoknowyourlibrary
Find out more about the range of activities and groups on offer at www.wandsworth.gov.uk/libraries