Get to know your library: where teens help children read
Published: Tuesday, April 23, 2019
As part of our #gettoknowyourlibrary celebration of Wandsworth libraries we're focusing on the wonderful variety of groups, events, resources and services they have to offer.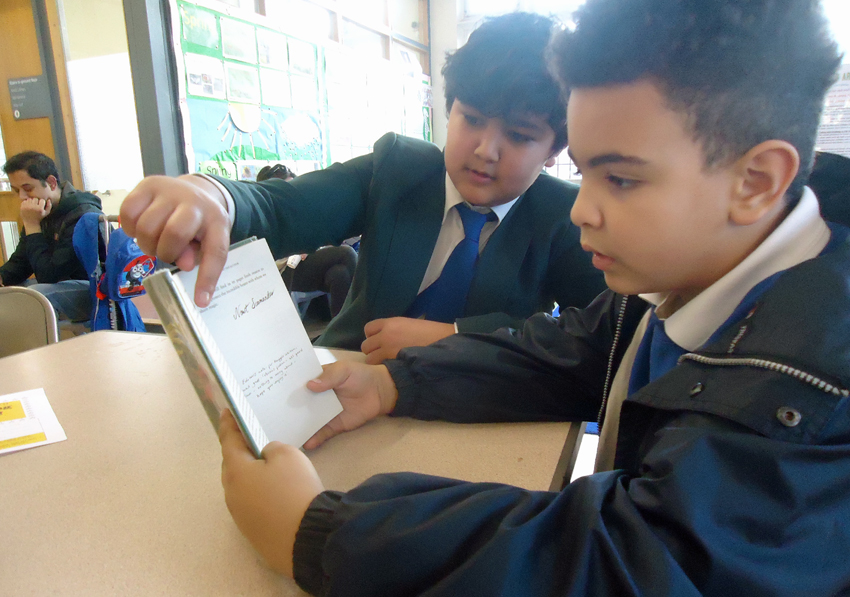 Most weeks for the past year Faiz has travelled to Tooting Library after school to help primary school age children with their reading.
"It feels good to help kids because sometimes they find it hard to read," said the 15-year-old. "It's just an hour a week but knowing I'm helping them is nice because I'm also helping out the community. Sometimes they come to me at quite a basic level and sometimes they're quite shy so it helps their confidence. It helps me as well because I'm quite a shy person so my confidence has grown with theirs."
Faiz is one of an army of Tooting Library's young volunteers who help with its reading support programme. Throughout the week they come to sit with youngsters in the children's library upstairs and offer one-to-one support as the child reads to them.
"I prefer it than reading to adults because sometimes when I get the words wrong the adults might be a bit grumpy while they don't mind so much," said Jason, aged six. "Today I had Faiz and I always like the people I read to. Coming here every week to read is fantastic and it makes me want to read more advanced books."
Jason had just completed 12 weeks of reading sessions and in tribute was given a Silver Reading Star Certificate of Achievement by the library.
"He loves it here and it's really helping it a lot," said his mum, Stella. "At home he never used to read and I didn't know what to do but since I've brought him here he chooses his own books to read and now he has a lot more confidence. Sometimes he says to me, 'Mum? Let's go to the library' and it's not even his reading day!"
Every day five or six teenagers visit the library to help with the sessions. In the course of their hour they can sit with a couple of children, one-to-one, so around 50 younger children are helped at the library every week.
Sam and Leshai
"It's quite a business organising everyone and I have multiple spreadsheets!" said Heather Shepherd, Tooting's children's librarian, laughing. "I do have a waiting list at the moment because it is very popular. For the volunteers it's very helpful because you do see them developing in confidence and I think the younger children engage really well with the fact they are working with an older younger person so it's like reading with a brother or a sister."
Sam, 16, has been volunteering at the library for around six months.
"I really like the environment here," he said. "I'm doing a Duke of Edinburgh's Award and needed somewhere to do my volunteering. Before this I was looking at working in charity shops but I didn't really want to work behind a till and felt like this was helping the younger generation. When you read with a child over a few months you definitely notice a change."
"I wanted something to do after school," said Mya, 17. "I like helping people and it was something to take my mind off school and other things. Heather actually sent me an email today saying that one of my reader's mums is really happy that her child is more confident in her reading now. So that's a good accomplishment."
Joshua, Tamara and Sheliya
Today Mya was reading with seven-year-old Joshua while Sam sat with Leshai, also seven.
"Everyone is a winner and it's a really good service," said Tamara, Joshua's mum. "It's fun and enjoyable and free! It's also nice for them to be introduced to the library in this way and they start to look forward to coming here."
"I wish every library did this!" said Rishelle, Leshai's mum. "After Leshai has read the support worker will come over to me and say, 'She struggled with these certain words so perhaps you can practice reading the book and these words with her over and over again.' I've definitely noticed a difference."
If you are interested in becoming a volunteer, or in your child joining the programme, contact: Heather.Shepherd@GLL.org
We would love to hear about what makes your favourite Wandsworth library. Simply send us and Wandsworth Libraries a tweet to @wandbc & @wandsworthlibs and remember to include the hashtag #gettoknowyourlibrary
Find out more about the range of activities and groups on offer at www.wandsworth.gov.uk/libraries