Macmillan Move More Wandsworth wins First Prize for Personalised Care in Cancer Rehabilitation
Published: Monday, April 8, 2019
Macmillan Move More Wandsworth, a scheme to help local people living with or beyond cancer get more active, has won first prize in the Transforming Cancer Services Team's (TCST) competition for cancer rehabilitation services in the London and West Essex Region.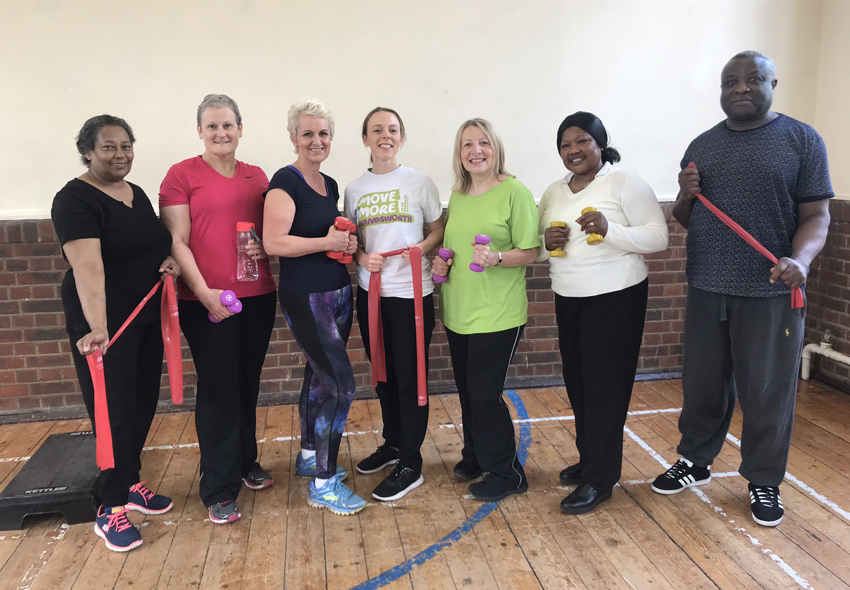 The innovative service was the winner of the Personalised Care in Rehabilitation Physical Activity category.
Since the service began in October 2016, Macmillan Move More has provided personalised physical activity support to 181 people living with and beyond cancer in Wandsworth, Merton and Sutton. The service offers one-to-one consultations to discuss people's personal motivations and help them plan activities that are right for them.
Macmillan Move More Wandsworth is delivered by Enable Leisure and Culture in partnership with NHS Wandsworth, Macmillan Cancer Support and Wandsworth Council. The results of the service show that after 12 months of support, 85 per cent of participants increased their physical activity levels, 80 per cent reduced their fatigue levels and 90 per cent reported improved quality of life.
Move More participant Louize Petch from Tooting started treatment for Lymphoma in March 2018. She said:
"The initial consultation was hugely helpful to talk about what I used to do and what was realistic. We discussed fatigue and helpful tips to pace myself. We put together realistic objectives and a plan. During my review it was good to take stock and notice and things had got easier and my energy levels were better.
"I would recommend anyone affected by cancer to attend a Move More appointment. The individualised nature is very good. They tune into what you did before, where you're at now and what is realistic. So I am wholeheartedly positive about the programme."
Liz Price, Associate Director of TCST and one of the competition judges, said:
"One of the things we hear most from those we work with is that cancer rehabilitation doesn't get the attention and profile it deserves and needs. That is what inspired us to launch our first-ever TCST competition for cancer rehabilitation and we were absolutely blown away by the response. The awards recognised the huge impact that cancer rehabilitation services have across patents' cancer experiences. 
"Move More Wandsworth was a wonderful service to learn about. We loved hearing how it is delivered flexibly over time, locations, and is not prescriptive. It was great to see evidence that patients felt involved in goal setting and decision making, and that they felt empowered and listened to. We need more physical activity services delivered like this!"
Victoria Heald, Macmillan Partnership Manager for South West London, said:
"The Macmillan Move More Wandsworth scheme is a fantastic example of an innovative programme that is helping people with cancer find their best way through. Being physically active can be of huge benefit to anyone impacted by cancer; whether they are in the middle of treatment or on the road to recovery. Recent research suggests that physical activity may reduce the likelihood of dying from cancer and may help prevent a recurrence; it can also help manage some of the often life-changing side effects people experience from treatment. The team should be very proud of all that they have accomplished."
To find out more or to take part in the scheme, contact Beth Brown, Move More Wandsworth Coordinator, on 020 3959 0031 or email bbrown@enablelc.org