Young people can play for free on borough's £500k revamped tennis courts
Published: Friday, April 12, 2019
With summer upon us and the tennis season about to get underway the next generation of Andy Murrays and Roger Federers can hone their racket skills on the borough's newly refurbished tennis courts.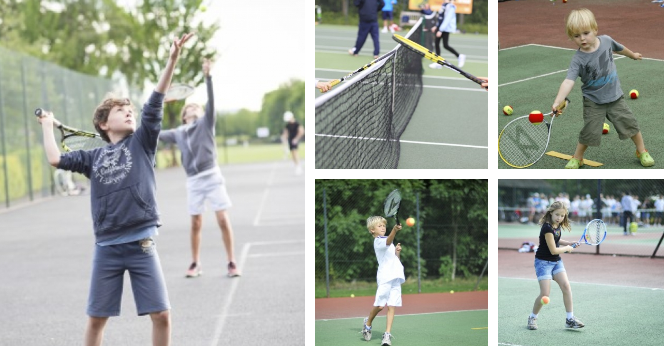 All Star Tennis, which is investing £500,000 in upgrading courts at six locations across the borough, is offering children and young people the chance to play as much tennis as they like every day after school free of charge.
Their Junior Free Play Scheme allows young players to play free of charge between 3pm and 5pm Monday to Friday when courts are available and this even includes the loan of equipment at King Georges Park, Tooting Common and Wandsworth Common.
And players of other ages can pick up a membership for as little as £1 a week which also allows free play Mondays to Friday's before 5pm.
There are newly refurbished tennis courts at King George's Park, Wandsworth Common, Tooting Common and at Leader's Gardens in Putney.
Those who play at King George's Park can continue until 9pm each evening all-year-round following the installation of floodlights.
Next in line for upgrades are the courts at Furzedown Rec in Tooting where work will get underway just after Easter, and this will be followed by a refurbishment of those at Wandsworth Park where work is scheduled to begin in September.
In total All Star Tennis manages 28 courts across the borough. All are benefiting from the company's £500,000 investment.
All Star Tennis, which is celebrating its 20th anniversary this year, began working in the borough in 2002 when it started managing the courts on Wandsworth Common. In 2013 it teamed up with another tennis provider Will to Win and took on the other five venues in a partnership which has seen local participation levels soar 80 per cent.
The council's sports and leisure spokesman Cllr Steffi Sutters said: "We know that tennis in Wandsworth is popular all year round with people of all ages so I'm delighted that All Star Tennis is offering players such great value deal to play their newly revamped tennis courts.
"Hopefully young people in particular, especially those who may not have played the game before, are encouraged to pick up or borrow a racquet and play for free after school."
As well as the 28 courts managed by All Star Tennis, residents can also play at the courts in Battersea Park and also at the council's flagship 52-acre multi-sports complex at Barn Elms. Here people can play rugby, football, cricket, aussie rules, netball, hockey and rounders as well as specialist sports like beach volleyball, archery, athletics, field events. There is also a gym and a boathouse for rowing. These are managed by the council's leisure and culture contractor Enable Leisure and Culture. 
To find out more about coaching and playing at All Star's venues visit www.allstartennis.co.uk.
For information about Barn Elms visit www.wandsworth.gov.uk/barnelms. And for other fitness, leisure and sports facilities in the borough log on to www.wandsworth.gov.uk/sport
The borough has unveiled a five-year strategy to get all its residents more active.
The strategy, drawn up by the Active Wandsworth Network made up of the council, the borough's leisure and culture contractor Enable, local sports clubs and other key members of the sporting community, aims to make Wandsworth the most physically active borough in London by 2022.
It proposes developing a workforce of coaches and volunteers, targeting parts of the borough where people are inactive and removing the barriers that stop people being active, such as lack of facilities or cost.
Cllr Sutters added: "We recognise the importance of sports and physical activity to keeping people mentally and physically well and the role it plays in creating strong communities.
"That's why the council, together with its sports and leisure provider Enable and the Active Wandsworth Network, have teamed up to back this new strategy and are working together to get more of our residents involved in sports and fitness activities."
To find out more about the Active Wandsworth Strategy visit the council's website.