A day in the life of a refuse collector during Covid-19
Published: Friday, April 24, 2020
Scott Forrester drives a Serco bin lorry for Wandsworth Council. Heading out to collect our rubbish most mornings he is one of the unsung heroes who has kept the country running at this challenging time. We chatted with Scott to find out what life as a refuse collector is like during the current crisis.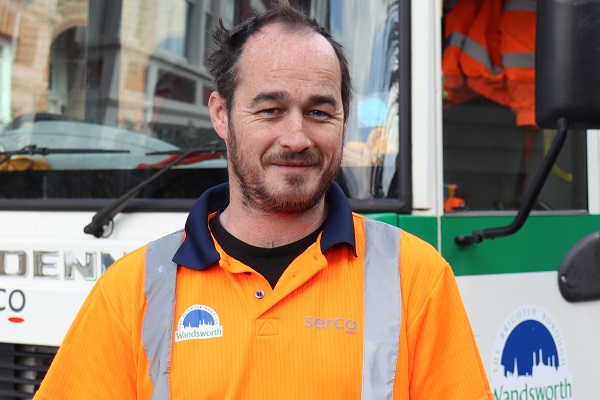 "At the moment the work is very, very heavy. I mostly get on the road by 6am and today I would have normally finished by 1.30pm but I didn't actually get done until 3.30pm. People are leaving so much waste out at the moment – and that's even without us taking the green waste which has had to be put on hold. It's the busiest it's ever been and it's even twice as heavy than it is at Christmas. It's because people are now in all the time and they are having three meals a day at home, while they might normally have been having just one.

At the start of the lockdown my partner was a bit worried about me going out until I explained that I wasn't in as much contact with people as she might think. Even though we're out and about we're well insulated and isolated, we have gloves on all the time and we keep our distance from everybody. At the start of all this we did lose quite a few people who had to self-isolate which meant half the crew and twice the work but now we're getting back to full-strength again.

The support from the public has been brilliant. A lot of people have left us thank you cards and chocolates over Easter in particular which has been really nice. It's great that people are doing things they don't necessarily need to do. Residents are also leaving notes on the bins and we now have a wall in our office covered with kids' drawings – my favourite is one of a high five!.

It's great to be appreciated like this. We are keyworkers and have been called the 'fourth emergency service' and it's nice that residents are on our side and are showing their thanks. We do feel valued and it's brilliant seeing families coming out to wave at us – the children love the lorries.

If I had a message for people it would be a big 'thank you' for your support, good cheer and the happiness that is being sent our way. Also – ease up on the green waste! Unfortunately, it's not going anywhere just yet as we're just trying to focus on getting the normal waste cleared."

You can thank our bin men and women by writing personal messages to leave out with your recycling and upload your children's handiworks to Facebook, Twitter and Instagram with the hashtag #MyWandsworth #ThankYou.

Throughout the crisis, normal rubbish and recycling collections will be continuing as normal - we are delivering more recycling sacks to cope with extra demand.  

In line with government guidance regarding social distancing the Smugglers Way and Cringle Street waste facilities are closed to residents until further notice.
Help us keep waste to a minimum. Here are some things you can do to help,
Bulky waste and garden waste collections have been temporarily paused until further notice. Please don't 'clear out' your homes or leave any bulky waste items for collection. Store your items in your homes for collection until the day that restrictions are lifted.


Don't put garden waste out. For tips on composting check out the council's website for further information www.wandsworth.gov.uk/composting


If you have symptoms of the Coronavirus (a new continuous cough and/or high temperature) double-bag personal waste that may be contaminated, such as tissues and disposable cloths – i.e. bag it and then put inside another plastic bag, and keep separate from other waste in your home. Make sure to keep in your house for 72 hours before leaving it out for collection.