Businesses urged to claim grants as council payments pass £40m
Published: Thursday, April 23, 2020
Wandsworth Council has now distributed £42m in grants to local businesses as claims continue to arrive from companies dealing with the impact of the coronavirus crisis.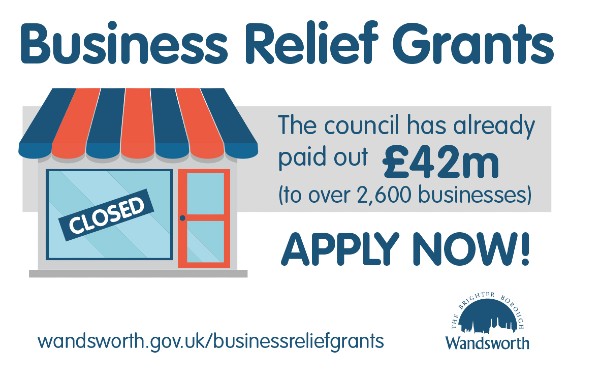 As soon as central government funding was announced, the council contacted thousands of businesses who were eligible for Small Business Rate Relief (SBRR) or Retail Discount Relief and invited them to claim.
Grants range from £10,000 for the smallest businesses to £25,000 for slightly larger businesses in the retail, leisure or hospitality sectors. If businesses are not paying business rates they may still be entitled to a grant.
All those businesses are eligible to claim grants through the council so if you missed your letter, get in touch through the council's online contact form to claim business relief grants. 
'We are distributing funds as fast as possible'
Cabinet member for economic development, skills and employment, Councillor Jonathan Cook said: "More and more grant payments are being issued every day by the council so I am encouraging those who haven't contacted us to claim your grant, to do so without delay. The support is there to help your business to get through this, and we are distributing funds as fast as possible.
"In proportion of value of grants, Wandsworth is in the top 10 London boroughs for payouts. This shows the incredible effort and that we are challenging ourselves to do the best we can to help our local business community."
Finance spokesman Cllr Rory O'Broin said: "I'm proud of the work that our finance teams are doing to get the money out of the door to where it's needed. We have been contacted by some businesses who were anxious about when they were going to receive their money, so we have followed up and progressed payment wherever possible.
"We need up to date details to ensure rapid payments can be made whilst still carrying out checks to minimise the potential for fraud. Make sure you send us all the details we need, including current bank account information to help us get the funds to you quickly."
'Working together'
Steve Pinto, CEO, Wandsworth Chamber of Commerce: "Wandsworth Council has really pulled out all the stops to deliver this staggering amount of financial support to businesses in such a short time.
"Even though it can be very frustrating if you are one of the businesses still waiting, we do need to put into perspective the enormous ground being covered by councils to look after all parts of the community and the health of our people will always be the top priority.
"We will keep pushing for businesses who are still waiting for grants and other financial support. We are very pleased that Wandsworth Council has agreed from the outset to attend our weekly Business Forums and keep us updated on progress. By working together, we will get through these extraordinary trading times."
Business rates holiday
In addition, to help financial pressures, businesses in the retail, hospitality and leisure sectors in England will not have to pay business rates for the 2020 to 2021 tax year. There is also a business rates holiday for nurseries.