Update from Professor Rusi Jaspal
Published: Wednesday, April 15, 2020
Professor Rusi Jaspal is Wandsworth Council's advisor on social isolation. Over the coming weeks he will share with us his thoughts on how to remain socially connected during the coronavirus crisis.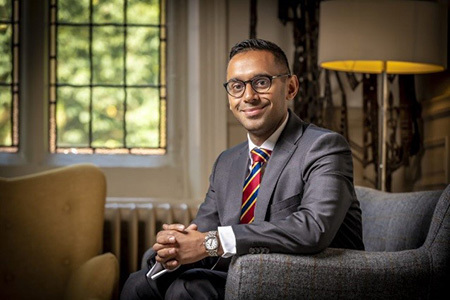 We are all facing the challenges of the COVID-19 (coronavirus) outbreak and we will only overcome these challenges if we work collectively towards this common goal. Social distancing is a really important way we all can contribute to stopping COVID-19 in its tracks. It is vital we all adhere to this difficult policy – by staying at home and leaving the house only when absolutely necessary - because we know  this will work.
But there is a difference between social distancing (maintaining a physical distance from other people) and social isolation (feeling disconnected from other people in your community).
Here are my tips on how you can follow the social distancing rules but remain connected to your friends, family and community.
Our new research shows that having a strong sense of community is important because it gives us a sense of motivation, support and reminds us that we are in this situation together. It is therefore really important that, while physically self-isolating, we retain some form of psychological and emotional contact with other people.
There are various ways in which we can do this:
Do not meet anybody that you do not live with in person but do keep in contact on social media, over the phone, over e-mail and other virtual methods. Set yourself the goal of communicating with at least one person every day. Build a schedule to do so.
Some of us do not use the internet. Sending someone a handwritten letter can also have the same positive effect..
Think about any groups that you are a part of or wish to join (such as a community group, religious group, debating society) and look at ways of connecting with them virtually. Groups do not always have a virtual meeting, perhaps you could suggest this to your group administrator/ lead. This may be a great opportunity to join a new group.
Try to replicate the things that you would have done before using technology. For instance, if you would usually visit friends and family for Easter, tune in virtually so that we feel that you are together (despite not being physically together). Join a party online!
Join in the NHS Clap for Carers as this gives us a real community spirit and makes us feel part of a community, while also reminding NHS workers that we are cheering them on.
Be proactive and get in touch with somebody who you think might be feeling socially isolated. A quick telephone call to check in can be very reassuring and helpful to a person in need. It can make all the difference.
Try to find a balance between spending time with other people (including those in your household) and spending time on your own. It is healthy to be able to spend some time alone – reading, listening to music, meditating. It can also be helpful to give yourself and others around you some 'space' – however we define that.
Keep up with news from your community - such as Wandsworth Council's Brightside Online e-newsletter or a community website or social media page.
Want to volunteer? Contact Age UK Wandsworth or the Wandsworth Voluntary Sector Coordination Service who can give you a list of voluntary and community organisations
The key is to remember that you are not alone, even though you may feel alone. We must give ourselves and others the support to persevere with the social distancing policy. Only then will we be victorious in our struggle against COVID-19.
Read more about how Wandsworth is tackling social isolation