Wandsworth Town Hall lights up blue for the NHS and key workers
Published: Thursday, April 23, 2020
Wandsworth Town Hall was lit up in blue tonight to show support for all key workers and solidarity with the NHS.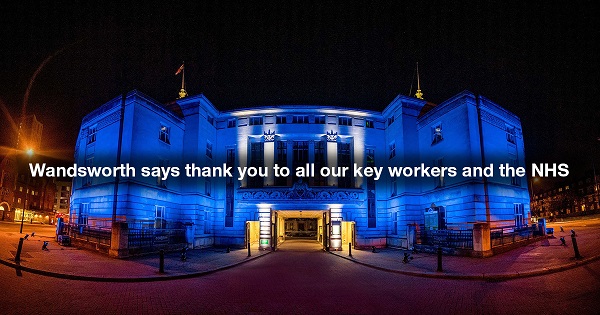 This marks the fifth week that the nation has been clapping, banging pots or whistling outside their homes to give thanks to everyone who is working on the front line during the COVID-19 pandemic.  
The lighting was provided by local company Luminaire Events who generously offered their services for free to help Wandsworth show its support in the most striking of ways. 
Councillor Ravi Govindia, leader of Wandsworth Council, said: "We are delighted to show our support as a council by lighting up the Town Hall and we would like to thank Luminaire Events for offering to help out. It is yet another example of the community coming together to show its appreciation of NHS staff, as well as all other essential workers across Wandsworth. 
"Each week we see a huge response from people across the borough including clapping every Thursday, putting up rainbows in their windows and giving plenty of 'thank you' cards to our staff on the front line. I think the Thursday clap serves as a weekly reminder for people that we are all in this together, we are still fighting this virus by staying home and we are doing it to save lives and support our wonderful NHS." 
The lighting of Wandsworth Town Hall comes shortly after the Government announced a further three weeks were being added to the lockdown.  
Cllr Govindia added: "I totally understand that lockdown is very difficult for many people and I would urge anyone who is struggling or needs support to contact our Community Hub on 0208 871 6555 or covid19support@richmondandwandsworth.gov.uk."