Construction skills hub trains hundreds of jobseekers
Published: Friday, August 30, 2019
Hundreds of residents are gaining entry into the construction industry thanks to an onsite training hub at Battersea Power Station which is run by Wandsworth Council's Work Match team and funded by the government's Construction Skills Fund (CSF).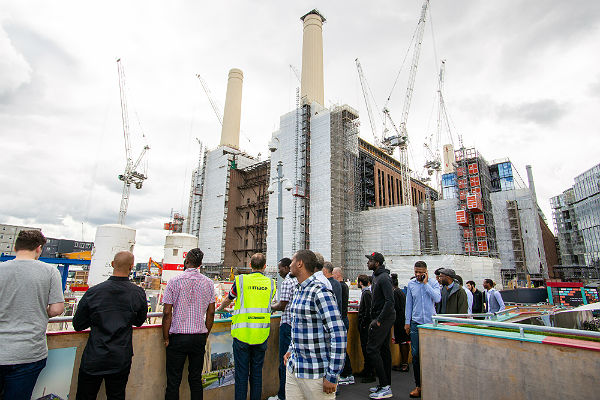 The council secured £500,000 of funding from the CSF in October 2018, and is coordinating its training scheme with support from the Construction Industry Training Board (CITB). Construction partners helping to deliver the scheme include Mace and Sir Robert McAlpine, as well as Taylor Wimpey which is enabling scaffolding training at a nearby site on York Road.
The hub offers an opportunity for jobseekers to become site-ready for a role in construction through a unique training model which is led by employer demand. All trainees undertake a thorough skills assessment before being provided with their own bespoke route into work, through a matrix of skills tailored to their specific requirements ranging from construction accreditations to short courses. They are then put forward for relevant roles with employers across construction sites. Battersea Power Station, which is currently undergoing major regeneration works, is accepting trainees on site to ensure they have access to the equipment needed to gain practical experience, from scaffolding to brickwork.
One such trainee is Kai Burrell, who is a Carpentry Apprentice with contractor EE Smith on the Battersea Power Station development. He had been studying carpentry at college before being advised to enrol with Work Match.
Kai said: "Work Match helped me get my CSCS card through the Construction Gateway project at Battersea Power Station and put me forward for the position. My life has changed for the better. I had to wake up earlier and I am now surprisingly used to it! My carpentry skills have improved as well as my equipment skills - I am learning along the way.
"Battersea Power Station is one of a kind to work on, so having this on my CV makes me stand out. If you are creative and have an interest in construction, I can recommend getting into the industry."
As of June 2019, the hub has successfully trained 121 candidates and is working towards a target of 400 people completing training and being employment ready by March 2020. The CSF hub provides a new route into the construction industry for jobseekers who wouldn't have otherwise had the opportunity to work in the sector.
Councillor Jonathan Cook, Cabinet member for Economic Development, Skills and Employment at Wandsworth Council said: "We are immensely proud of the Wandsworth Construction Skills Centre. It has done so much since its conception to serve local people with a tailored service, and to help them directly into different kinds of job vacancies within the construction sector.
"By listening to local employers and helping residents to get the right skills or accreditation to do the job, we are making huge strides in changing the traditional perception of construction. We're showcasing an attractive career path with opportunities for future progression and to work close to home either in Nine Elms or across the borough."
Find out more about Work Match and how to sign up
Delivering a much needed skills boost for this key development area in central London, the scheme is aiming to place 120 trainees in sustained employment within Battersea Power Station and other Nine Elms developments, by June 2020.
Steve Radley, Policy Director of the Construction Industry Training Board, said: "The Nine Elms development is an incredibly important regeneration project that spans a vast area between Lambeth Bridge and Battersea Power Station. It's fantastic that our trainees are able to get hands on experience and bespoke training on such a high-profile development. Projects like this are vital to help us reach the 158,000 skilled construction workers required by 2022."
About the construction skills fund
Delivered by the Construction Industry Training Board (CITB), the £22m CSF is funded by the Department for Education (DfE) with the aim of training more than 13,000 people to be ready for employment in construction by March 2020.
The Construction Skills Fund has been created as part of the Government's National Retraining Scheme to support innovative ways of training new entrants and retaining adults in the construction sector. The hubs provide life-changing opportunities to start a career in construction, with particular focus on the long-term unemployed, career changers and unrepresented groups.