New all-weather sports pitch completed
Published: Friday, August 23, 2019
Work is now complete on a brand-new £2.1m all-weather sports pitch in Battersea's Falcon Park, with extensive landscaping work to the park also due to start shortly.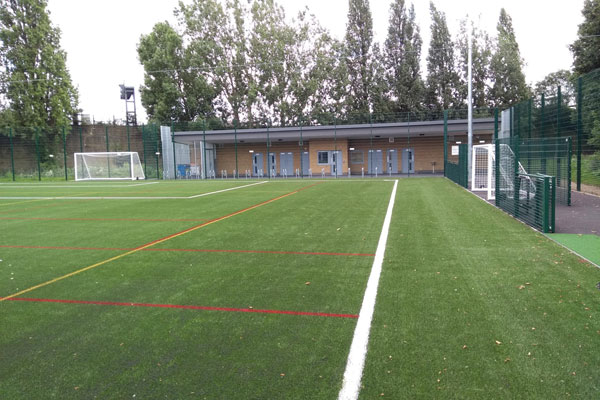 The pitch and its changing rooms were handed over to the council's sports and leisure contractor Enable this week, which will now work to get them ready for the public to use from the first week of September.
The 3G artificial pitch aims to give the area's young people access to top-quality sports facilities and encourage them to get active. It will be used mainly for football but will also support other sports like rugby and cricket.
It replaces four junior size grass pitches which were regularly deemed unplayable in the winter months because of waterlogging. Replacing them with an all-weather playing surface with floodlights means young footballers and other sports clubs will be able to use them for around 80 hours a week - compared to the ten-hour limit recommended for grass pitches by the Football Association.
At around the same time in early September, work will start on extensive upgrades to the northern end of the park including new play equipment and landscaping.
Earlier this year local people were asked what they thought the £171,000 earmarked for the improvements should be spent on, and were given three different options. Option One including a refurbished park entrance, new cycle paths and racks, planting native shrubs and trees and new play equipment including a helix-shaped climbing frame was the most popular.  Works are scheduled to start the week commencing September 2 and take around nine weeks.

Find out more about the Falcon Park Landscaping Improvements.
Cabinet member for community services and open spaces Cllr Steffi Sutters said: "It's great news that work is now complete on this pitch, which will be such a valuable resource for the people of Battersea – especially its young people.
"I'm also looking forward to seeing the other improvements planned for this much-loved neighbourhood park and I hope that everyone who took part in the consultation, and everyone who uses Falcon Park, is pleased with the result."