Park logs help create haven for Battersea dogs
Published: Friday, August 30, 2019
Logs from Battersea Park have been used to create Battersea Dogs and Cats Home's first-ever sensory garden.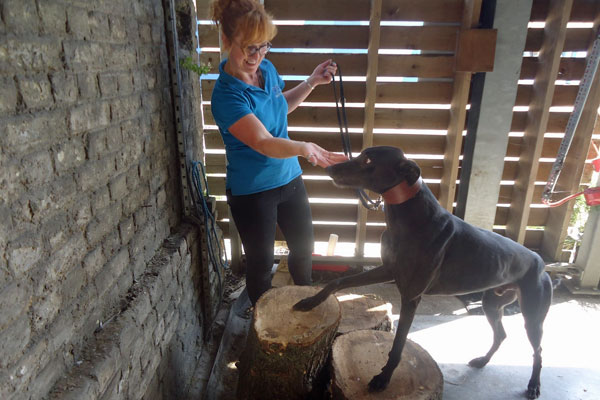 The garden acts as a stimulus for many of the dogs in need of care and can help improve their confidence. Logs from ash and oak trees in Battersea Park have also been dotted around outside areas of the famous rescue centre which will also improve the quality of life for dogs before they find a more permanent home.
"Having these logs has been a real game changer for us," said Dawn Grehan (pictured above), rehoming team leader who came up with the garden idea along with a team of gardening volunteers. "The dogs use the logs in different ways including stepping on them – so it's good for their confidence in experimenting with different surfaces, while treading on an unknown surface can be a real sense of achievement for them. We also hide treats in the logs, so they are great for search games."
Dawn also explained that smell is one of a dog's strongest senses and the logs are good at accumulating lots of aromas because wood is porous.
"We have foxes visiting us in the night and so the dogs can smell them in the wood!" she said. "Some dogs can be depressed when they first come to us, so it's important to stimulate them and make them feel positive, otherwise they're going to focus more on their negative feelings."
Most days a dog will be walked to the sensory garden where they will meet other dogs and so improve their sociability and interaction. Besides the logs there are also plenty of pet-safe herbs and flowers for them to sniff around and eat and different surfaces such as sand, artificial turf and bark to offer a diversity of stimulations.
"This is my oasis; my baby," said Dawn, looking around the garden. "I come from a rural background and I used to run my own kennels where I had lots of herbs and logs. But when I first came here I noticed it was quite barren so, over the past couple of years, we've tried to make the outsides much greener. Having the logs has helped enormously with that and, besides being great for the dogs, they also encourage other wildlife such as bugs, while creating more of a natural environment helps wellness in staff because this can be quite an emotional job."
Every couple of months Dawn will receive a phone call from Alex Roebuck, the Arboricultural Officer for Wandsworth Council.
"It's a good thing to do," he said. "If the logs weren't being used by the Battersea Dogs and Cats Home in this way they would most likely become green waste and it's great to see them being used for something constructive rather than, say, lying in a field."
The council's cabinet member for community services and open spaces, Cllr Steffi Sutters, said: "We are pleased to have played a part in this delightful project to improve the lives of the dogs and cats at Battersesa while they wait for a permanent home. It also means that there's a good use for the wood removed during the routine maintenance and pruning of Battersea Park's thousands of trees.
Wandsworth can proudly claim to be one of the capital's greenest boroughs with 32 public parks and boasts a rich diversity of trees, flowers, plants and fauna. To find out more about the summer-long #LoveParksWandsworth celebration of parks visit: enablelc.org/loveparks