Pilot scheme sees innovative new bins to tackle gum mess
Published: Thursday, August 15, 2019
Wandsworth Council has signed a major contract with a pioneering chewing gum recycling company to help keep those black splodges off borough streets.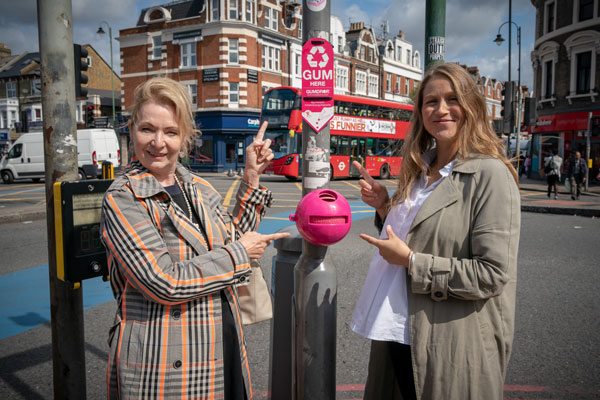 A number of new eye-catching pink bins have been placed around Clapham Junction railway station and Tooting Broadway tube station in a bid to encourage people to put their gum in the bin rather than drop it on the pavement.
Once the bin is full, the state-of-the-art Gumdrop bins will be taken away and all the waste gum inside one bin will be recycled to make three more bins. The bins, which are part of the Council's MyWandsworth campaign to keep the borough looking clean and tidy, will not only improve the local environment but will contribute to reducing cleaning costs for the council.

"Having seen the areas around the stations there is definitely a problem with gum litter," said Anna Bullus, founder of Gumdrop Ltd, the company behind the bins. "We are the first company in the world to recycle and process used gum into new compounds and we hope that this will encourage people to responsibly dispose of their waste gum, which will go towards helping Wandsworth Council achieve their corporate social responsibility goals."

Wandsworth has set itself  an ambitious goal to be inner-London's greenest council – with the target of being carbon neutral by 2030 and a zero-emission council by 2050. A key part of this vision is about protecting the local environment in as many ways as possible.
Chewing gum is a synthetic rubber that comes from fossil fuels and recycling the gum is one such way of protecting the local environment.  Providing bins to collect and capture chewing gum will also hopefully encourage gum chewers to dispose of their chewing gum responsibly.

"There just isn't the opportunity to recycle your chewing gum anywhere," said Cllr Steffi Sutters, the council's cabinet member for community services and open spaces. "But by providing these striking bins we are giving people something to use to get rid of their gum and something which will improve their local environment.
This is just one of the many ways – like our SMART bin trial – where we are turning to technology and innovative solutions to keep our borough looking at its best."
Anna goes on to explain how the bins encourage people to do the right thing, 
"We want to give people the choice to recycle their gum. By dropping their gum in a Gumdrop they are doing more than just helping to clean up their communities streets. Not only can we manufacture more Gumdrop Bins, but all sorts of other plastic products, which will significantly help reduce the amount of virgin plastics and single use plastics being used?'" she said. "Our ethos as a company is that if we can change something as small as dropping a piece of gum on the floor, we can go as far as to create positive change regarding littering and green issues as a whole.
"We did a six-month campaign in central London and over a six-month period we actually reduced gum litter by 85 per cent," said Anna. "We've also had some fantastic results with universities where our bins have saved them between £18,000 and £25,000 a year on cleaning bills. Many people are amazed when you tell them that the cost of removing one piece of gum is between 30p and £1.50!"
If the bins around the two stations are a success the scheme could be rolled-out borough-wide..