Plan ahead for Sunday journeys as London stages major bike event
Published: Thursday, August 1, 2019
Residents are being urged to plan ahead carefully if travelling by road or bus on Sunday as London hosts a major bike riding event that will see some roads and bridges closed to traffic.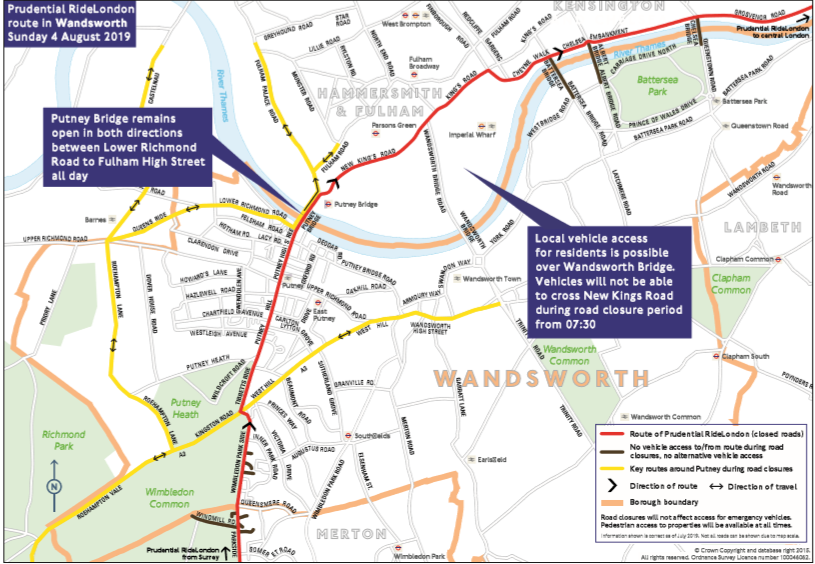 Sunday's (August 4) Prudential Ride London cycle event will have a serious impact on travel across large swathes of south west London and Surrey - and Putney town centre in particular.
Thousands of cyclists, both amateur and professional, are expected to take part in an all-day bike event, sponsored and supported by the Mayor and TfL, which is based largely on the London 2012 Olympic cycling competition.
To accommodate the riders, the following local roads will be closed to all vehicle traffic from 7.30am on the day. They are expected to reopen at around 7.30pm, although this timing is subject to change.
• Wimbledon Parkside SW19
• Tibbet's Corner SW19
• Tibbet's Ride SW15
• Putney Hill SW15
• Putney High Street SW15
Putney Bridge would normally be closed to traffic in both directions but will remain open to reduce pressure on local roads caused by the current indefinite closure of Hammersmith Bridge. As a result localised vehicle traffic will be able to cross the bridge between the lower Richmond Road and Fulham High Street.
There will also be restrictions at Wandsworth Bridge which will be closed to all but local residents who need access.
For full details and maps showing road closures and restrictions please visit www.prudentialridelondon.co.uk/road-closures
More information is also available at https://www.prudentialridelondon.co.uk/about/faqs/.
For assistance with planning journeys visit the Transport for London (TfL) website at https://tfl.gov.uk/status-updates/major-works-and-events/ride-london-2019
The event will see riders setting off from Queen Elizabeth Olympic Park in east London heading for the Surrey Hills before returning to central London and a finishing line in The Mall.