Ten days left for residents to apply for their streets to take part in Car Free Day
Published: Tuesday, August 13, 2019
Residents in Wandsworth who want their street to take part in next month's London-wide Car Free Day event are being reminded they have ten days left to submit their online application.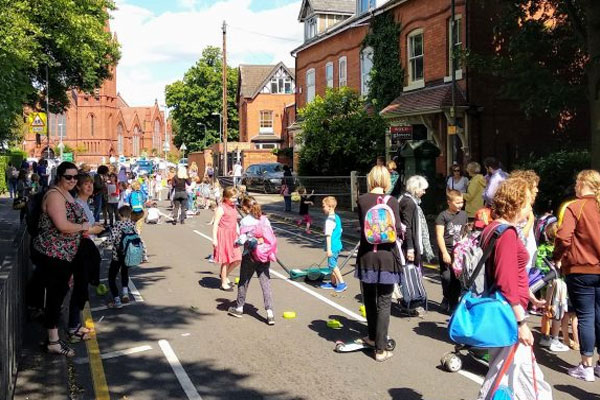 A wide range of community events are expected to take place across the capital on Car Free Day London – which is being held on Sunday, September 22.
With their streets free of traffic and closed to passing vehicles, children will be able to play safely in the road space outside their homes while mums and dads will have the chance to join in the fun and games or spend time chatting and meeting new friends.
The council is supporting the initiative which means that those who take part will not have to pay the normal costs associated with a pre-planned street closure, which include drawing up legal notices and publishing them in the local press. Instead these will be met using specific funds promoting sustainable travel and air quality initiatives – keeping the whole thing free of charge for Wandsworth residents.
To qualify for a free street closure, residents and community groups need to apply online by 5pm on Friday, August 23.
This is just the latest in a series of council supported initiatives to promote sustainable travel and better air quality.
Last month the council approved the borough's first "Play Streets" scheme outside Granard School in Putney, which saw dozens of children and their parents enjoying a car free playtime outside the school gates.
And proposals have been drawn up to pilot a similar "School Streets" initiative at five local primary schools in the coming academic year. The scheme would see the roads containing school entrances closed to traffic when pupils arrive in the mornings and leave in the afternoons – in a bid to encourage safer and healthier travel to and from school, while also helping to boost air quality levels.
Transport spokesman Cllr Paul Ellis said: "Car Free Day will give our residents the opportunity to stage some fantastic community events that provide safe outdoor space for families to enjoy while at the same time encouraging others to give up their cars for the day and use other forms of sustainable transport.
"This is just one of a number of initiatives in our climate change programme to encourage residents to live more sustainable lives. These include walking and cycling more, joining one of our many car clubs, taking advantage of an increasing number of electric car charging points and minimising household waste by reusing and recycling more.
"And we hope that even if people don't attend a street party on Car Free Day they will pay attention to the message and minimise their use of cars whenever possible, not just on September 22, but at all other times too."
Event organisers must bear in mind that not all streets in the borough can be closed to vehicle traffic – especially those that contain bus routes, busy junctions and commercial properties needing deliveries. The council also has no authority to close roads that are part of the red route network.
For more information about how the town hall is planning to meet its environmental targets and commitments and its ambition to become inner London's greenest borough please visit the council's website.